Posted on
Tue, Jun 7, 2011 : 5:59 a.m.
Washtenaw County stargazers capture image of newly discovered supernova
By Kelly Davenport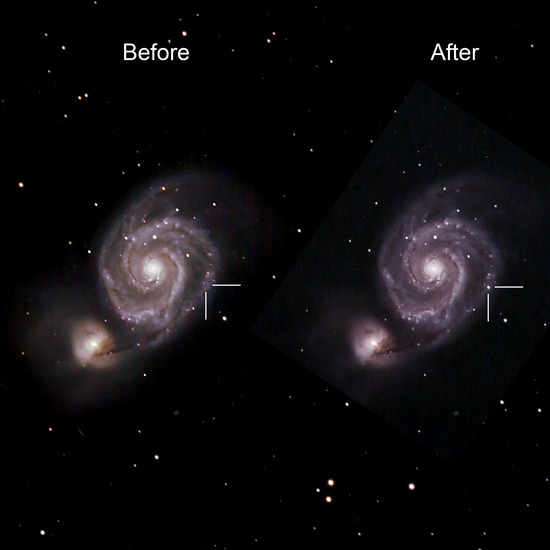 Courtesy of Brian Ottum
Clear, dark skies with only a sliver of moon Sunday night set the stage for a "holy cow!" moment for two stargazers in Washtenaw County.
Brian Ottum of Saline and Dipankar Maitra of Ann Arbor sighted and photographed a supernova in the double galaxy called Messier 51 near the constellation Ursa Major, commonly known as "The Big Dipper."
The supernova, a large exploding star, was discovered in late May by an amateur French astronomer. Ottum estimated it would be visible for only about another month.
Even though the supernova actually exploded 31 million years ago, it's just now visible to us Earthlings. And it's big news in the astronomy community.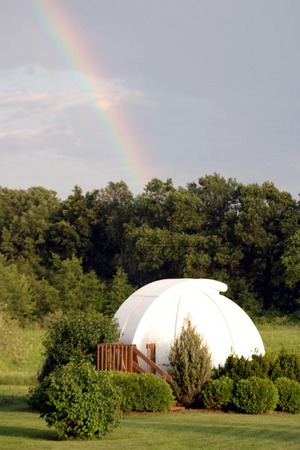 Courtesy of Brian Ottum
After the French amateur sighted it last week, "the Internet came alive" with astronomy chatter, Ottum said Monday.
"Everyone around the world is watching it," he said.
And while Ottum — a business consultant who maintains a 16-foot observatory in his backyard in Saline — has seen a supernova before, this one is a bit more special.
"They're discovering one almost daily," he said. "But they're usually extremely faint and very far away in tiny little smudge galaxies that no one ever looks at."
The galaxy that's home to the new supernova, by contrast, is known for its elegant double-spiral shape. It's sometimes called the Whirlpool Galaxy.
"All the astronomers love to look at this one because it's double, it's in the Big Dipper, and it's cool," Ottum said.
As for the supernova, it's "much brighter than usual, and it's in a showpiece — something close by and that people know well."
Ottum had scoured the skies for the supernova last week after learning of its existence and saw nothing. Light pollution can be a problem in the region, but skies were clear and dark Sunday night.
So, just around midnight, Ottum and Maitra, a postdoctoral research scholar with the University of Michigan's astronomy department, aligned Ottum's digital Canon camera with the telescope in his backyard observatory. In essence, the telescope becomes the camera's extended eye, Ottum explained.
For an hour, they took 2-minute exposures — "when you take pictures, you don't take a whole hour's worth at a time because of light pollution," Ottum said.
Then they checked their findings. They'd captured the star.
"We looked at the camera and went, 'Holy cow!' It was very exciting to actually see it," he said.
Ottum, an enthusiastic photographer of the cosmos who maintains a portfolio online, used a photo editing program to stitch together the hour's worth of images into the one shown here.
"The romance of the night sky" has long fascinated Ottum.
He described watching a lunar eclipse at age 12, when the moon turned blood red. From then on, "I was hooked."
He acquired the observatory dome in 1996. It had originally been made for the Air Force, which didn't end up needing it. Ottum learned of it and made an offer.
"I went and picked it up in a rental truck. It's delivered in pieces, stacked up like a meringue pie," he said.
He's hosted Girl Scout and Boy Scout troops at the dome, as well as other local astronomy buffs.
"Kids are great first-time observers," he said. "We love hearing 'holy cow!' when someone sees Saturn and its rings for the first time. Our scopes can show you Saturn as good as pretty much the best picture you've seen."
Ottum is also an active member of the University Lowbrow Astronomers in Ann Arbor — "lowbrow" because any amateur stargazer is welcome.
The club organizes regular "star parties" at Peach Mountain, a radio telescope near Dexter. The next Peach Mountain open house night for the public is June 25.
When Ottum gets together with just his fellow astronomy enthusiasts, they seek out the best dark skies in the region. Lake Hudson State Recreation Area southwest of Adrian, for instance, is a "dark sky preserve."
"Once a year, we do a sort of competition where we stay up all night and try to see as many of the 'top 110' sky objects as we can," he said.
Midnight coffee keeps them going.
In July, Ottum will head for Bryce Canyon in Utah to host weekly star parties during a summer National Park Service program at the preserve known for its inky darkness.
"They get thousands of people every week" visiting to see the stars, he said.
And Ottum's favorite sight in the sky? He answers without hesitation.
"The summer Milky Way. It's just rich with all the stuff at the center of our galaxy — clouds of gas where stars are born, stellar nurseries. That is the coolest stuff to see."
Kelly Davenport is a copy editor/news producer for AnnArbor.com. Reach her at kellydavenport@annarbor.com.