Posted on
Sun, Jul 14, 2013 : 1:30 p.m.
Students return from National History Day with new skills, positive experiences
By Erica Hobbs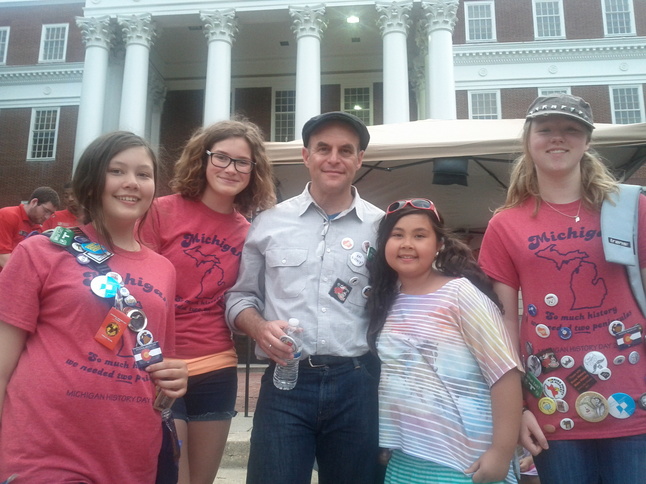 Photo courtesy of Charles Roth
While they may not have placed in the finals, four Washtenaw County students say they are returning from the National History Day competition victorious. The students, from the Ann Arbor Learning Community charter school and Ann Arbor's Pioneer High School, said the experience taught them valuable skills both inside and outside the classroom that will help them later in life.
The group, which included Sophia Goebel, Asia Korkmaz and Emma Roth from the Ann Arbor Learning Community — — and Lisa Qian from Pioneer High School— spent a week at the University of Maryland in College Park to compete in the nationwide history competition.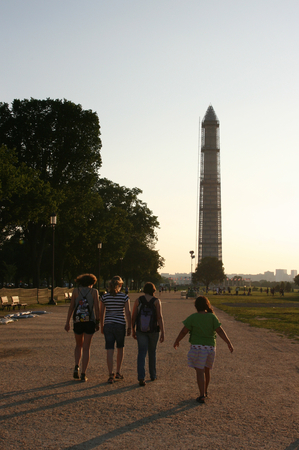 Courtesy photo
The contest is open to students in grades sixth to twelfth and asks that they present projects demonstrating their research and understanding of history. The students must conduct primary and secondary research around a particular theme. This year, "Turning Points in History: People, Ideas, Events" and students were given the option of presenting their findings in one of five ways: a paper, an exhibit, a performance, a documentary or a website.
"It's the journey not the destination," said 12-year-old Korkmaz. "I think I'm taking away life experience."
Korkmaz, who recently finished seventh grade, wrote a research paper titled "President Nixon's White House Tapes: A Turning Point in Executive Privilege." She said the project taught her high-level research skills some people might not learn until college.
"I learned how to do deep, precise research and learned how to form my own conclusion and analyze history," she said. "I feel that's going to benefit me later on."
For students at Ann Arbor Learning Community, the contest has become part of a tradition. Adviser Abigail Kuhn said this was the school's eighth time participating in the program and its fourth time qualifying to the national level. She teaches a "National History Day" elective every fall and runs a weekly club that meets throughout the year.
Roth, who also just finished seventh grade, has participated in the program for the past four years, but said this was her first year competing on the national level. The 13-year-old created a performance to display her topic, "Absolute Certainty: DNA Profiling and the American Criminal Justice System," where she wrote and acted in a three-character play about the history and ramifications of DNA profiling.
As part of her research, Roth via email interviewed Sir Alec Jeffrey, the British geneticist who created the techniques for DNA profiling an experience she said literally had her, "jumping for joy."
"I just kind of felt like a part of history," she said. "You feel like you're actually getting to know history and how are our criminal justice system works, and now because of this, I kind of want to be lawyer."
Goebel, 14, said one of the best parts of the competition was meeting peers from across the country and all over the world. The competition includes students from the United States as well as American Samoa, Guam, and International Schools and Department of Defense Schools in Europe.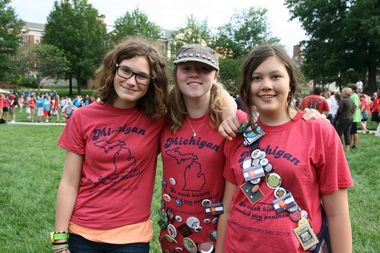 "There's a lot of conversing with other people and a lot of skills you gain from it so that If you didn't do such a big competition, you wouldn't be able to have (those experiences)," she said. "I hope I take them with me through my high school experience."
Goebel, who will be starting as a freshman next year at Ann Arbor's Huron High School, said initially she was terrified when she started her project, "Monopoly, Not Just a Game: The Sherman Antitrust Act and Standard Oil," but now is confident in her skills for writing a long-term research paper.
For Qian, the only one to independently compete, the contest was about pursuing her own love of history and sharing her knowledge with others. The 15-year-old, who will be a junior next year, found the contest on her own through a Google search and decided to pursue it with her mother, Fang Dong, as a parent sponsor.
"I just know there are so many opportunities for science and math but not many for history, which is something I'm interested in," she said. "This is really the only major history program I found."
Qian decided to create a website for her project so she could share the information easily with others. She chose to focus her project, "Francis Perkins: The Mother of Social Security," on a topic she thought would be particularly relevant to her generation.
"It's important for me to understand," she said. "[Social Security] is something that my generation will have to deal with."
Kuhn said the program is a way for students to develop not only research skills, but a love for history, culture, people and a personal confidence that will them into the future.
"I think it's a really great program," she said. "I'm really proud of what they've done this year."