Washtenaw County's bridges in trouble, lack of state funding cited for inability to maintain or replace them
Posted on Mon, Nov 29, 2010 : 6:01 a.m.
Editor's note: The amount of state funding to replace local bridges in 1992 has been corrected.
Washtenaw County's bridges are in trouble.
And with little state funding available to maintain or replace them, Washtenaw County Road Commission officials say the situation is only expected to worsen.
Of the 111 bridges under the Road Commission's jurisdiction, 43 are in good condition, while 30 are in fair condition, 22 are in poor condition and 16 are in critical condition.
Of the 16 bridges in critical condition, five are closed — four in Lima Township and one in Sharon Township.
The Road Commission currently has $91 million in unmet bridge funding needs, officials said.
And Washtenaw County isn't unique. A report issued by the Michigan Infrastructure and Transportation Association — which represents highway construction companies and suppliers — shows about 3,050 of the state's 10,831 bridges are rated structurally deficient or functionally obsolete.
The MITA data show Washtenaw County is tied for second in the state, along with Genesee and Mason counties, for the highest percentage of local bridges in poor condition. In addition, the county was ranked fifth — tied with Charlevoix County — for the highest percentage of all its bridges in poor condition.
Local bridge conditions
"More money for bridges is needed statewide," said Washtenaw County road engineer
Roy Townsend
. "We should be replacing two to three bridges every year, and we've barely been replacing one."
That's not for a lack of trying for state and federal funding.
The Road Commission submits five applications every year, Townsend said. Those applications are due in June, said Steve Puuri, managing director of the Road Commission.
But there simply isn't enough bridge repair money to go around. Funding comes from a percentage of the state's gas tax, and gas tax revenues have decreased by more than $100 million since 1997 — the last time the gas tax was increased.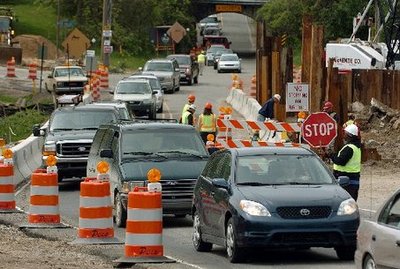 File photo
In 1992, the state program to replace local bridges was funded with $38 million, and about 150 bridges were replaced, Townsend said.
That same level of funding is expected for 2012, and about 27 bridges and 13 rehabilitation projects will be funded.
"So, that's about 40 bridges across the state," Townsend said, noting that costs have more than doubled since 1992.
In the last four years, the Road Commission has received funding for two bridges. The county should be replacing and or rehabilitating two or more bridges annually, and each bridge has a life expectancy of 50 to 70 years, Townsend said.
At the current funding level, each bridge will need to last "more than 300 years," Townsend said.
This year, the Dexter-Pinckney Road Bridge in Dexter Township was replaced. In 2009, the Plymouth Road Bridge in Superior Township was replaced. And the East Delhi Bridge was rehabilitated in 2008-2009, while the Dexter Main Street Bridge was replaced in 2007-2008.
"It took us about 10 years to get funding for that," Townsend said of the Main Street Bridge.
A bridge replacement averages about $1 million to $3 million, and state and federal funding pays for about 95 percent of the cost, he said.
"Disinvesting in roads and bridges when Michigan is desperately trying to climb out of a deep economic hole is short-sighted public policy," Mike Nystrom, executive vice president of MITA, said in a press release. "While it's easy to point fingers and blame road agencies for the poor bridges, the reality is that they've been underfunded for decades."