Posted on
Thu, Feb 16, 2012 : 5:59 a.m.
Washtenaw County to ask local municipalities to help share the cost of animal control services
By Ryan J. Stanton
Now that Washtenaw County has worked out a deal with the Humane Society of Huron Valley to fund animal control services through 2012, one question remains.
What happens in 2013?
The county is mandated to provide certain animal control services, and county officials acknowledge the Humane Society is the only qualified provider in the county.
But county officials say they aren't going to let that stop them from putting out a request for proposals later this year and considering all options for animal control services in 2013.
Entering into a $415,000 contract with the Humane Society carrying through the end of this year — a move approved by the county board Wednesday night — provides the county ample time to evaluate animal control costs, as well as other potential providers, said County Board Chairman Conan Smith, D-Ann Arbor.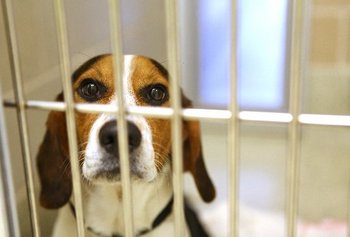 Jeff Sainlar | AnnArbor.com
The Humane Society has agreed to work with the county through a process to be led by the Sheriff's Office to come up with a new method to determine the cost of an "animal service unit."
The county is creating a committee to review the findings and recommend a final cost methodology and animal control services budget for 2013.
In addition, the county is looking into partnering with other local jurisdictions like the city of Ann Arbor to share the financial burden.
Smith said a number of local jurisdictions in Washtenaw County, including the city of Ann Arbor and Ypsilanti Township, have adopted local animal control ordinances. And per those ordinances and state law, they are responsible for animal control services.
He said it's imperative for the county to meet with those jurisdictions to understand their needs and reach a solution.
Smith said the county is providing animal control services in local jurisdictions without compensation.
"It's definitely a partnership between our law enforcement agencies, so I don't want to give the impression that we're out picking up every cat and dog in Ypsi Township and Ann Arbor city, but certainly we're covering the cost of their shelter at the Humane Society," he said.
Smith said the county is considering asking municipalities for compensation should the county, for example, pick up stray cats and dogs in their jurisdictions.
"Or having them just participate in sort of a flat-rate basis in the contract so that we can maximize the services that are provided across the county," he said.
"One of the scenarios that happens pretty frequently right now is Ann Arbor city officials will come in and capture a stray animal or a wild animal, they'll bring it out to the Humane Society, and really it's the county's financial burden and the Humane Society's because they significantly subsidize the service," Smith said.
And so the question is: Can the local jurisdictions share some of that burden?
Asked whether local officials have been approached about that idea yet, Smith said there have been only loose background conversations.
"We wanted to make sure folks knew that this is one of the conversations we have to have so they can start thinking about it," he said. "But there's been no proposal at this point."
Ending months of uncertainty about the future of local animal control services, at least for this year, the county board voted 10-0 Wednesday night to approve a new agreement to have the Humane Society provide animal control services through Dec. 31.
The board agreed to authorize an additional expenditure of $165,000 for a total contract amount of $415,000. The services provided under the new contract will be identical to those provided under the previous contract with the Humane Society.
The Humane Society's last contract with the county — worth $500,000 annually — ended Dec. 31 and services had been provided on a temporary basis since Jan. 1.
Faced with a $17.5 million structural deficit, the county's administration several months ago proposed reducing the annual allocation to the Humane Society from $500,000 to $250,000, but the agency balked at that offer and that led to arguments that dragged on for months.
"We are now at a point that can truly serve as a stepping stone for a new relationship," said Mark Heusel, vice president of the Human Society's board of directors. "I'm confident that we can strike a relationship that is long-lasting and will move beyond 2012."
Washtenaw County and the Humane Society have partnered for more than 20 years to meet the county's mandate for animal control services and the society's mission for the humane treatment of animals. Smith said the county's financial situation in the past has been such that it did not have to ask local jurisdictions to help pay for animal control services.
"So there's a tough policy and budget set of questions that they're going to have to grapple with," he said. "One of their options is to get rid of their ordinance, in which case the full burden falls on the county. But the county is only responsible for a certain subset of services."
Smith pointed to what happened in Ferndale, where he works as executive director of the Michigan Suburbs Alliance. He said the city decided to forgo its animal control ordinance and now Oakland County does only dog control, not cat control.
"And Ferndale now has a feral cat problem," he said. "The same thing might manifest in our communities if we don't come up with a more creative solution."
Commissioner Dan Smith, R-Northfield Township, said he's glad the county is able to continue contracting with the Humane Society. But he had concerns Wednesday that the county is dipping $165,000 into its cash reserves while it still faces a large deficit in 2014.
"We are facing severe financial constraints," he said.
Commissioner Alicia Ping, R-Saline, was absent from the meeting.
County officials pointed out that in 2007 the county board authorized a one-time payment of $1 million for assistance in constructing a new animal shelter for the Humane Society.
The county offered its bonding authority in order to provide the Humane Society with lower-cost financing to construct its facility. The county also began gradually increasing its annual contributions to the agency beginning in 2008, ramping up to last year's $500,000.
Ryan J. Stanton covers government and politics for AnnArbor.com. Reach him at ryanstanton@annarbor.com or 734-623-2529. You also can follow him on Twitter or subscribe to AnnArbor.com's email newsletters.