Posted on
Thu, Feb 14, 2013 : 5:59 a.m.
Washtenaw County to demolish vacant juvenile detention center on Platt Road
By Amy Biolchini
Washtenaw County will raze the vacant juvenile detention center at 2270 Platt Road in Ann Arbor this summer to make room for future development by the county, officials say.
Greg Dill, infrastructure management director for Washtenaw County, confirmed Wednesday that the building will be demolished this summer.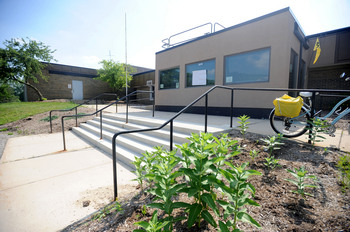 Angela J. Cesere | AnnArbor.com file photo
The 42,320-square-foot juvenile detention center on Platt Road is about 44 years old. It costs the county about $211,040 to operate annually.
The detention center includes cells to house inmates, which make the building difficult to re-purpose, according to county staff. It's been vacant for nearly 10 years, as the county moved its juvenile detention services to its Hogback Road service center.
Talks of an affordable housing development on the site continue among county leaders, who have met several times in the past two months to discuss the property, Dill said.
A task force of Dill, director of Washtenaw County's Office of Community and Economic Development Mary Jo Callan and two Democratic Washtenaw County commissioners representing Ann Arbor, Yousef Rabhi and Andy LaBarre, has formed to guide the county's development on the property, Dill said. They're seeking additional members for the task force.
As chairman of the county Board of Commissioners in his second term, Rabhi has publicly expressed his desire to address affordable housing issues in Washtenaw County at several meetings this year.
The board has not voted on any official plans regarding the site.
Dill will be presenting a number of recommendations to the board regarding the Platt Road site in mid-March as a part of a regular report on the county's buildings and leased space, when he said more details will be released as to the county's vision for the property.
The juvenile detention center is one of two aging buildings on the 13.5 acres that Washtenaw County owns on Platt Road, adjacent to the county's Farm Park and parks department.
The other building is the 6,680-square-foot O'Brien Center at 2260 Platt Road that was last used by the public defender and the prosecuting attorney.
The county hasn't had any of its operations at the Platt Road site since May 2011, when the juvenile court moved to downtown Ann Arbor. The property saw signs of life in the summer of 2012 when Project Grow sited a number of community garden plots there.
Washtenaw County officials said earlier this year they wanted to keep the property in the county's portfolio, rather than sell it to private investors.
Amy Biolchini covers Washtenaw County, health and environmental issues for AnnArbor.com. Reach her at (734) 623-2552, amybiolchini@annarbor.com or on Twitter.