Posted on
Thu, Nov 19, 2009 : 8:14 p.m.
Washtenaw County to get $2.5 million for energy efficiency programs
By Ryan J. Stanton
County Commissioner Conan Smith said he has a dream of seeing Washtenaw County become the first carbon-neutral county in the state.
"It's pretty significant work that's going to be involved in that," said Smith, D-10th District. "The biggest task for us is going to be benchmarking our current carbon output. And as an institution we're not terrible, but it's pretty significant."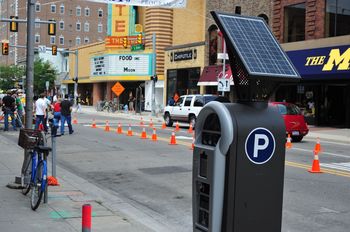 Ryan J. Stanton | AnnArbor.com
In a big step toward that effort, about $2.5 million in federal grant money is on its way to Washtenaw County to fund new energy efficient initiatives - including a high-visibility solar energy demonstration project.
About $1.24 million of the money allocated by the U.S. Department of Energy is going to the city of Ann Arbor, while $484,400 will go to Ypsilanti Township. Another $766,900 will be spent at the discretion of the Washtenaw County Board of Commissioners.
Commissioners received a report from county staff tonight on how the county plans to spend its allocation. Nationally, about $2.8 billion is being awarded through the Energy Efficiency and Conservation Block Grant Program.
The county plans to put $76,690 toward the creation of a Southeast Michigan Energy Office, a new partnership between the Michigan Suburbs Alliance, WARM Training Center and SEMCOG. The office's list of proposed services includes tracking energy savings, energy audits, Department of Energy reporting and grant compliance assistance, grant writing and other technical assistance.
Another $242,500 of the county's allocation will be used on various retrofitting projects in county facilities. That includes T8 light retrofits and adding occupancy sensors to storerooms, mechanical rooms and restrooms. It also includes installing new LED lights, additional insulation, and solar hot water heating systems, including at the county jail.
"We've done a lot of work over the last five to seven years to reduce our energy usage, but what we haven't done very well is look for alternative sources of energy," Smith said. "So if we're really going to get to the carbon-neutral stage, we've got to look at opportunities to sequester carbon through our parks system, for example. We've got to reduce our energy use and we've got to replace the energy that we are using with renewable sources."
County officials predict that $400,000 in energy savings will be realized over 10 years from the improvements. The payback rate per project ranges from 4 to 13 years.
One of the biggest projects is a solar energy demonstration. County officials plan to spend $115,000 on installing a 12-kWh solar energy system on a county facility.
Smith said no details are yet available on that project. He suspects multiple proposals will come forward.
"For example, we have tons of flat roof space here, so the opportunity for doing solar is pretty significant," he said. "But then we want it to be a visible project - we want the citizens to know that we're working in this direction - so it could be solar lighting. We could do that in our parking lots. There are hybrid solar-wind-powered lights that are in use in Michigan right now."
Another $57,710 would be spent on developing a Washtenaw County energy policy and strategy.
Overall, the initiative is intended to reduce carbon dioxide emissions and realize energy savings at county facilities, as well as some residential and commercial facilities.
Commissioner Jeff Irwin, D-11th District, said he's particularly excited about using $275,000 to start a revolving loan fund that would make funds available for residential, commercial and institutional building retrofits.
Irwin said the initiative is an opportunity to support economic development in Michigan and start down the path of a clean energy future. He said he hopes to see legislation passed in Michigan to allow energy efficiency loans to be secured by property owners by entering voluntarily into special assessment districts.
The Board of Commissioners is scheduled to approve the federal grant application on Dec. 2. The funds are expected to be awarded within 60 days after that.
Ryan J. Stanton covers government for AnnArbor.com. Reach him at ryanstanton@annarbor.com or 734-623-2529.