Posted on
Fri, Dec 16, 2011 : 5:58 a.m.
Washtenaw County expected to lose $19M in utility assistance funds this winter
By Ryan J. Stanton
Washtenaw County is poised to lose nearly $19 million in utility assistance funds in the coming months — and potentially more if the federal budget situation worsens.
That was the message relayed to county commissioners this week by Andrea Plevek, human services coordinator in the county's Department of Community and Economic Development.
Plevek said the $19 million figure is a combination of actual and proposed funding reductions from multiple sources.
That includes the elimination of the state's Low-Income and Energy Efficiency Fund, which state Rep. Jeff Irwin, D-Ann Arbor, is fighting to prevent.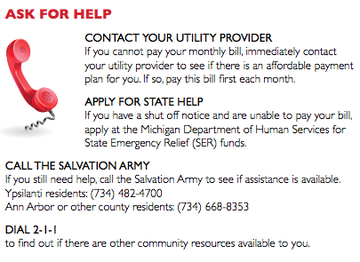 In an effort to educate local residents about reductions in funding — as well as the importance of reducing heat and energy usage and paying bills on time to prevent utility arrearages and shutoffs — human service providers from the
Barrier Busters Network
, along with county staff from Community and Economic Development, have created an informational brochure, Plevek said.
The utility assistance brochure will be distributed to low-income residents through food pantries, Housing Access for Washtenaw County and other human services providers.
"Expect less heating help this winter," the brochure reads. "This year, there are less than half as many dollars available in Michigan for heating assistance."
Plevek also released a summary of the recent funding changes, referencing the demise of the state's LIEEF program administered by the Michigan Public Service Commission.
The program was established in 2000 for the purpose of providing utility shutoff protection for low-income customers and to promote energy efficiency.
The LIEEF fund received revenue from surcharges added to the bills of customers of the three largest electricity and natural gas providers in the state. An Oct. 28 report from the PSC showed revenue of $88.9 million for fiscal year 2010-11.
But the LIEEF program has been frozen since the Michigan Court of Appeals ruled in July that the commission lacked authority to fund and administer it.
That's because the provision in state law creating LIEEF was amended in 2008 and all references to LIEEF were deleted at the time. But some, including Irwin, believe that was a "drafting error," and the program continued until it was challenged in court this year.
On July 21, 2011, in a court case regarding a utility company's requested rate increase, the Michigan Court of Appeals held that because the language referencing LIEEF had been eliminated in 2008, the PSC no longer had the authority to fund and administer it.
"That threw the program up in the air," Irwin said. "So folks have been working to save the heating assistance program this winter for families."
LIEEF funds historically have been distributed to nonprofit organizations across the state, including some in Ann Arbor. Those organizations then redistributed the funds to low-income households needing utility assistance.
About two-thirds of the LIEEF money historically has gone to prevent utility shutoffs, while the rest has paid for energy efficiency projects.
With the fees no longer being be collected, this year's utility assistance funding is estimated to be about $60 million less.
Irwin said there also are half-finished efficiency projects throughout the state now being scrapped because of what's happening.
The state House and Senate both have proposed means of addressing the impending utility assistance crisis for this winter.
The House version would provide a one-time remedy, redirecting $62 million in surplus federal Temporary Assistance for Needy Families dollars through the existing State Emergency Relief program. Unfortunately, Plevek said, getting access to SER funding can be cumbersome and that solution would not provide the same level of service.
The Senate version would apply only to customers of regulated utilities — such as DTE Energy and MichCon — thus leaving residents who rely on deliverable fuels such as heating oil, wood and propane without help, Plevek said.
Irwin is among those fighting for the restoration of the LIEEF program, but he said Republicans in Lansing don't seem interested in that.
"We could just go correct it, fill the hole and be done with it and put the train back on the tracks," he said. "But the Republicans are seizing this as an opportunity to deliver to their shareholders and they don't believe in energy efficiency."
Irwin said all of the plans to address the problem eliminate the energy efficiency aspects of the program, which he argued is worth preserving. In addition to helping people save on utilities, he said, energy efficiency projects reduce pollution and provide jobs.
"We're about to kill all of this great work," he said, adding he hopes the state at the very least can take some of the money in escrow and apply it to projects already under way.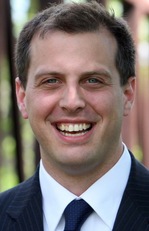 House Bill 5190
, which passed 62-46 in the House last week, effectively kills the LIEEF program.
The bill prohibits a utility company from charging a customer to help fund LIEEF, prohibits the PSC from including the low-income and energy efficiency charge in an affected utility's base rates, and requires the PSC to refund all money being held in escrow for LIEEF.
It was unknown as of this week how much remains in escrow, according to a Senate Fiscal Agency analysis. But other media reports have stated HB 5190 would require the PSC to refund to utility customers some $40 million.
"It's a big and important issue," Irwin said, vowing to continue to fight to restore the LIEEF program.
The average DTE residential customer will save about $1.58 per month with the LIEEF assessment eliminated, while the average commercial customer will save $1.42 and the average industrial customer will save $5.70, according to a legislative analysis.
Plevek said an administrative decision at the state Department of Human Services to rescind all emergency services contracts with local partners also has resulted in the loss of $75,000 in annual funding for Barrier Busters — a major source of utility assistance for low-income households throughout Washtenaw County.
In addition to the statewide changes, she said, reductions in federal funding available for utility assistance has been drastically reduced as of Oct. 1.
The maximum annual assistance available per commodity, such as gas and electric, was reduced from $850 to $450, and further reductions are expected based on the president's proposed federal budget, Plevek said.
"Our community's expected reduction at this time is nearly $19 million," she said, adding she hopes the brochure will help Washtenaw County residents and nonprofit service providers understand how critical it is for families to pay their utility bills first this winter and how little assistance is available should they get behind on payments.
"I just think this is a particularly ugly situation," added Irwin. "There are very few state programs that provide good jobs, pay for themselves and reduce our dependence on external sources of energy. This is one of these triple bottom line wins."
Ryan J. Stanton covers government and politics for AnnArbor.com. Reach him at ryanstanton@annarbor.com or 734-623-2529. You also can follow him on Twitter or subscribe to AnnArbor.com's email newsletters.