Posted on
Tue, Jul 6, 2010 : 3:44 p.m.
Washtenaw District Judge Cedric Simpson reassigned to civil cases only
By Amalie Nash
A judicial assignment shakeup at Washtenaw County's 14th District Court means Judge J. Cedric Simpson will no longer be presiding over criminal cases.
The changes, announced to the district court staff today, are effective immediately.
Simpson, who presided over criminal and civil cases in 14A District Court, has been reassigned to handle civil cases only. His criminal docket was divided between Chief Judge Kirk Tabbey and Judge Richard Conlin.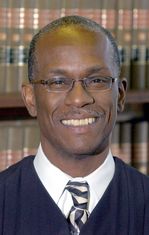 Tabbey said the changes were made because schedules needed to be shuffled due to Magistrate Camille Horne recently being called to military duty. He said it made sense for Simpson to assume the entire civil docket because of his experience and expertise in civil cases.
Tabbey declined to discuss whether performance was an issue with Simpson, saying that's a personnel issue. "I have received no official written complaints about Judge Simpson, and any other issues are personnel matters, so I would have no comment," he said this afternoon.
A message seeking comment was left with Simpson.
A spokeswoman with the Michigan Judicial Tenure Commission said no formal complaints have been filed against Simpson. She said any grievances against judges are confidential.
The reassignments were approved by the State Court Administrator's Office. A spokeswoman from that office was not immediately available for comment today.
When Tabbey was named chief judge of the 14A District Court in 2008, he replaced Simpson, who presided over the court for three two-year terms.
Simpson, first appointed to the 14th District Court in 1999, is known for his no nonsense style in the courtroom. In 2007, he ordered a legal intern for the Washtenaw County Public Defender to be locked up after he repeatedly showed up without the security badge that allowed him to speak to clients in lockup and his cell phone went off in court.
Under his new assignment, Simpson will remain in his current chambers and hear all civil cases, including landlord tenant hearings and general civil pretrial hearings. His pending criminal cases go Tabbey and Conlin.
"Cases pending will be reassigned as they are scheduled for new hearings, when bench warrants are issued, when arraignments are set, or when matters are adjourned," a document released today states. "Defendants having no objection to being sentenced by a judge other than the judge who took the plea will file a sentencing judge waiver form prior to scheduling the sentencing hearing. Defendants who object to being sentenced by a different judge will have their cases re-assigned to the original judge for sentencing."
15th District Court Magistrate M. Colleen Currie will hear some of Horne's cases in her absence, the memo states.
Tabbey said the reassignments should allow the court to function more efficiently.
"There will be a lot of positive outcomes to this," Tabbey said. "Looking at the absence of the magistrate and addressing the huge scheduling hole that left, we needed to make some moves. We've been planning this for a while, and we anticipate it will be a smooth transition."
The reassignments will be evaluated again in six months, Tabbey said.
Amalie Nash is the news director for AnnArbor.com and can be reached at amalienash@annarbor.com.