Posted on
Fri, Oct 28, 2011 : 5:58 a.m.
Watch the video as Big Bird moves his perch to new Mott hospital
By Melanie Maxwell
The most recognizable resident of C.S. Mott Children's Hospital is making the move -with the rest of the staff of the University of Michigan facility - when the new $754 million facility opens this year.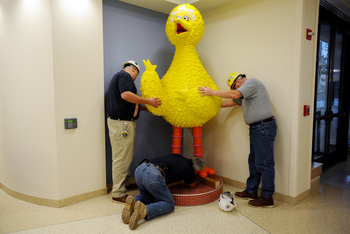 Big Bird got a jump on the opening when a crew moved him to his new perch on Oct. 27, following a little restorative work.
Now he's ready to greet patients, just like he did in the lobby of the soon-to-be-former facility.
"Big Bird just has a place in many people's hearts," said Pat Warner, the hospital's director. "We're just glad he's back and rejuvenated."
Read the story: Big Bird's big move: Beloved icon of C.S. Mott Children's Hospital settles into new home