With video:

Water main break on South Industrial causes 'waterfall' on Ann Arbor street

Posted on Wed, Jul 18, 2012 : 3:46 p.m.
A water main break at the intersection of Rosewood Street and South Industrial Highway in Ann Arbor caused significant street flooding Wednesday afternoon.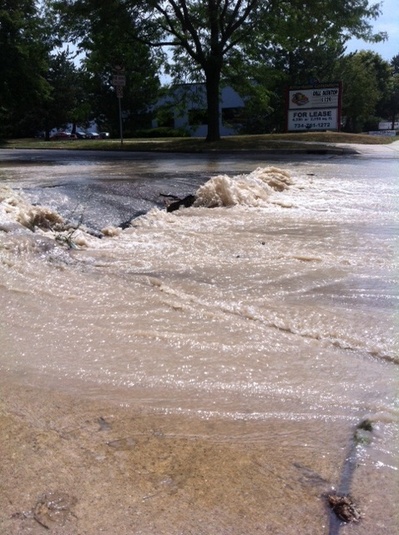 Photo by Jessica Hunt
The break occurred about 1 p.m., said
RoosRoast Coffee
employee
Jessica Hunt
, who captured the flooding on video.
City of Ann Arbor spokeswoman Lisa Wondrash said the flooding was caused by a broken hydrant branch. She said four businesses are without running water, but crews are working at the site and it should be restored within a few hours.
Hunt said the break caused a "crazy" outpouring of water outside RoosRoast and closed Rosewood Street at the South Industrial intersection.
"I was driving into work — I was coming from Industrial turning onto Rosewood — and it was flooded but I didn't know why," she said. "The water pipes underneath the road had exploded and there was a waterfall."
She continued: "The pipes were coming out of the road and the road was lifted up…it was crazy."
She said RoosRoast is still open — without running water — and employees are boiling bottled water for pour-over coffee.
At the Ann Arbor PTO Thrift Shop, located a block south on South Industrial Highway, volunteer Paulette Brown said the store has not experienced a disruption in service.
"Water is running with full force, it's not sputtering or anything, and no one has come in to tell us to be concerned or to not use the facilities," she said.
Further details on the break were not immediately available from the City of Ann Arbor.