Posted on
Sat, Jan 29, 2011 : 5:52 p.m.
Wedding vows have special meaning for longtime Superior Township couple
By Lisa Carolin
Angela J. Cesere | AnnArbor.com
Carmen Caruso promised to continue to love and care for his bride, Nila Rowland, when the couple exchanged wedding vows on Saturday.
Rowland promised to allow him to do so.
Those words, recited by Pastor Mark Fuller, had an added poignancy for the newlyweds.
In 2005, Rowland was diagnosed with amyotrophic lateral sclerosis, also known as Lou Gehrig's disease, a progressive neurodegenerative disease that affects nerve cells in the brain and spinal cord and muscles throughout the body.
She can't speak anymore and communicates by writing, but Rowland is slowly losing that ability too.
She can't walk without assistance, but on her wedding day, she walked down the aisle with aplomb.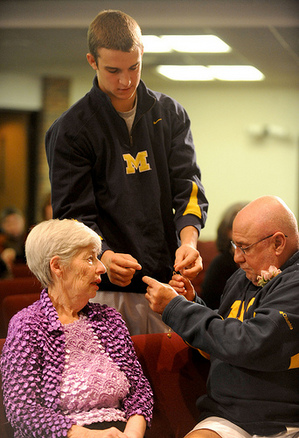 Angela J. Cesere | AnnArbor.com
"Nila is a beautiful, intelligent woman and has not let her illness define her," said Jenni Hawes, St. Joseph Mercy Hospice volunteer coordinator.
No one would accuse Rowland and Caruso of being impulsive in their decision to get married. They've known each other for 30 years and have been spending a good amount of time in each other's company for the last 14 years. But it wasn't until they officially became members of Trinity Presbyterian Church last week that they decided it was time to wed.
Caruso will be 66 on Feb. 5, and Rowland will be 76 the next day. She always maintained she wasn't going to marry a younger man.
But Caruso didn't give up, and as soon as she said yes to his ongoing proposal last week, plans got under way for Saturday's ceremony.
"The first time I laid eyes on her, the sun was beaming in her blue eyes, and I knew that I loved this woman," Caruso said. "She's made me so happy."
They first met on Labor Day in 1981 at Murray Lake in the eastern part of Washtenaw County. It wasn't until the following Labor Day at the same spot that they crossed paths again.
Both Caruso and Rowland were previously married. He has two grown daughters and two grandchildren, and she has a grown son.
Rowland was born in Highland Park and spent nearly 40 years working for AAA Michigan. For years, she was a volunteer with the American Red Cross and as a dog walker for the Humane Society of Huron Valley. Caruso, whose parents are from Italy, was born in Albany, N.Y. He moved to Michigan and taught elementary school in Inkster, and then taught at Ann Arbor's Abbot Elementary School for 14 years.
In the early days of the relationship, it was Rowland who cared for Caruso.
"I took a medication that caused a negative reaction like Parkinson's disease, and I couldn't walk or eat for a while," Caruso said. "Nila moved in and was there for me 100 percent and nursed me back to health."
Now, St. Joseph Mercy Hospice workers come to the Superior Township home they share to help care for Rowland.
As soon as hospice workers heard Rowland and Caruso wanted to get married, they rallied together to help plan the wedding. Norton's Floral donated flowers, Busch's Fresh Food Market gave a cake, Katherine's Catering and Paseano's Restaurant provided hors d'oeuvres, and Royal Limousine Service Inc. donated a limousine for the couple to enjoy an extended drive around town after the wedding and back to their home — where more than 50 people gathered to celebrate.
Rowland, who is a fan of the Detroit Tigers and Detroit Red Wings, received a wedding gift from the Red Wings — four seats in the wheelchair-accessible area for the Feb. 9 game, Hawes said.
Hawes credited Hospice's Dreams Come True Program and special event volunteers with helping to make the wedding extra special.
During Saturday's ceremony, Caruso read a poem to Rowland, largely based on the song "As Long As We Got Each Other," the theme from the Growing Pains television show. It included the lines:
"We're nowhere near the end;
The best is ready to begin;
As long as we've got each other, we've got the world spinning in our hands.
As long as we keep on giving, we can take anything that comes our way."
Lisa Carolin is a freelance writer for AnnArbor.com. Reach the news desk at news@annarbor.com at 734-623-2530.
To view the audio transcript of the video, please click here to go to our YouTube page and click the "Info" button below the video.