Posted on
Sat, Oct 6, 2012 : 10:41 a.m.
Ypsilanti River Day, annual search for creatures put focus on Huron River this weekend
By Lisa Carolin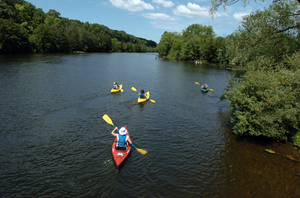 File photo | The Ann Arbor News
Sunday is an ideal day to take a boat ride on the Huron River and enjoy the surrounding fall foliage. The City of Ann Arbor Canoe Liveries has partnered with Ypsilanti Parks and Recreation to host the second annual Ypsilanti River Day.
For the journey from Frog Island Park to Ford Lake, there will be canoe and kayak rentals. There will be discount boat rentals for the river cleanup boats, and everyone will be encouraged to pick up trash in the river. A van will pick up people on the hour to bring them back to Frog Island Park.
The event runs from 10 a.m.-3 p.m. and includes canoes, single and double kayaks with boat fees ranging from $15-$25.
"The City of Ypsilanti is one of the pilot communities for project efforts, and we are super-excited to see Huron River oriented activities like Ypsi Huron River Day coming together," said Pam LaBadie, marketing director for the Huron River Watershed Council.
If you're driving along the Huron River today (Saturday), you may see people volunteering for the Watershed Council. Today is the annual River Roundup, a time to look for creatures that live in area streams, which tell researchers a lot about the health of the river.
Volunteers are out on stretches of the river in Washtenaw, Wayne, Livingston and Oakland Counties. There are 70 designated sites along the Huron River system where volunteers search through stones, leaves and sediment taken from the river bottom.
The Huron River Watershed Council is a nonprofit coalition of local communities, businesses and residents who protect the river and its tributary streams, lakes, wetland, and groundwater. Go to www.hrwc.org for more information.