Detroit Free Press:

Weight loss surgery can be successful with correct support, University of Michigan surgeon says

Posted on Fri, Jan 1, 2010 : noon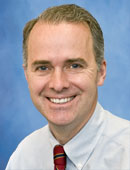 John D. Birkmeyer is a bariatric surgeon at the University of Michigan.
The effects of weight loss surgery can be lasting, with most people who receive a procedure reaching a maintainable weight within 12 to 18 months, a University of Michigan surgeon told the Detroit Free Press.
Family support is a big component to successful lifestyle changes needed to maintain the results of weight loss surgery, the article said.
The risk of death from the surgery has virtually been eliminated, and complications have been cut significantly, said John Birkmeyer. Birkmeyer is a bariatric surgeon at U-M who runs a registry on clinical outcomes of weight loss surgery with his wife, Nancy Birkmeyer, a U-M associate professor of surgery.
The surgery can reduce the need for medications for many chronic ailments like diabetes, sleep apnea and problematic blood pressure and cholesterol, he said.