Posted on
Sat, Apr 7, 2012 : 5:55 a.m.
A look at 911 and Washtenaw County central dispatch
By Lisa Allmendinger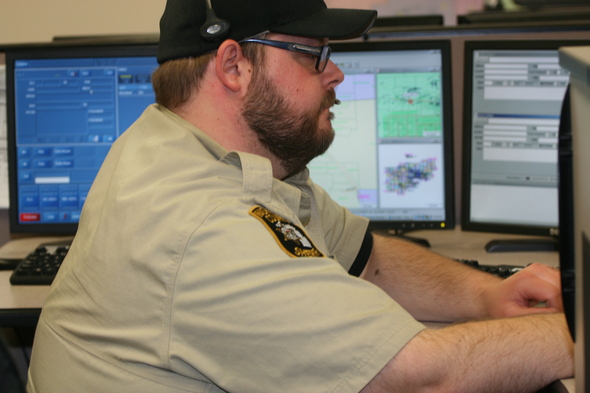 Lisa Allmendinger | AnnArbor.com
In the case of an emergency, seconds matter. Ask anyone who has waited for a fire department, police officer or ambulance to arrive.
The agonizing time it takes for a first responder to arrive can seem like an eternity, even though it's usually just minutes. And most of the time, it's a trained dispatcher who is responsible for that emergency response.
"There is a purpose for every question we ask and it's safety for the caller and for the responder," says long-time dispatcher Wes Fabian.
The county's dispatch system is now co-located with the city of Ann Arbor's above the downtown fire station, and handles about 1,000 calls a day.
Dispatchers understand that in a scary situation, it's hard for a caller to remain calm and give all the information that the dispatcher is requesting. But doing so will get someone to your home faster, they say.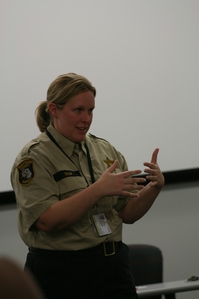 Lisa Allmendinger | AnnArbor.com
When should you call 911?
"If you have a need for police, call 911, " says Sarah Taylor, county dispatch operations coordinator, "(Call) if there's a danger to life, liberty or property."
But keep in mind that all calls are prioritized. Although a situation might constitute an emergency for you, a greater emergency will take precedence, Taylor says.
"If you aren't sure if your situation is an emergency, you should err on the side of safety and call 911," she says.
That allows a dispatcher, who is trained in public safety, make the decision if a fire department or a police officer should be sent to the scene.
When you call 911, you also should realize that how quickly police, fire or an ambulance arrives on the scene can depend on your ability to succinctly explain the situation and your exact location. There's a common misconception that a 911 operator knows where you are by the phone number you are using.
"We don't automatically know where you are," says Fabian, who has been a dispatcher for 17 years, the last eight with the county. "Cell phones aren't as smart as people."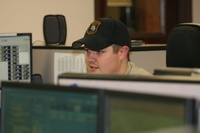 Lisa Allmendinger | AnnArbor.com
Cell phones, he says, connect to the closest cell tower, which might not be as close as you think to your actual location. "Be aware of your surroundings if you are driving and what direction you are going," Fabian says.
Keep in mind that 911 calls are being recorded even before the phone is picked up by a dispatcher, Taylor says.
Last December, the city of Ann Arbor and Washtenaw County agreed to merge dispatch operations as a cost-saving measure. Efforts to consolidate the two operations date back for some two decades. The state, which has set aside funds to support local consolidation efforts, gave the county a $177,000 grant last month to assist with the merger.
The central dispatch system provides services for the city of Ann Arbor, Washtenaw County Sheriff's Office, Ypsilanti City Police, Michigan State Police, Northfield Township Police and Huron Area Metro Parks. In addition, the dispatchers provide both emergency and non-emergency 911 service to county residents.
Taylor says there currently are about 13 dispatchers for the county and Ann Arbor has 16, and there usually are six on duty at one time.
Eventually, she says, there will be about 30 dispatchers, plus between 10 and 15 part-time positions.
"We want to make sure the quality of service is at its best," she says.
For more information about dispatch services, click here.
Lisa Allmendinger is a regional reporter for AnnArbor.com. She can be reached at lisaallmendinger@annarbor.com.