Wet, cold spring delays some crops for farmers at Ann Arbor Farmers' Market
Posted on Sat, Jul 2, 2011 : 2:18 p.m.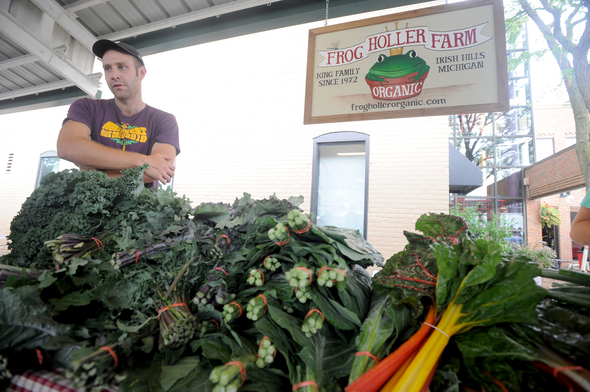 Angela J. Cesere | AnnArbor.com

Produce was plentiful at the Ann Arbor Farmers' Market today, but that's not an entirely accurate indication of how the growing season has been going for local farmers. This was the wettest spring on record in the region with 7.32 inches of rain in May alone, and that affected the planting schedule for many local farmers.

"We have clay subsoil and all that rain and cold weather delayed our planting," said Rob Mackercher, owner of Garden Works, a farm on Joy Road in Ann Arbor. "When you're farming you have to move on to the next season and we expect to have a good fall and we'll be here at the Ann Arbor Farmers' Market until Christmas."

Mackercher says that he has a good selection of greens now including kale, lettuce, cabbage and broccoli.

Edwin King, one of the owners of Frog Holler Farm, located in the Irish Hills, says that their lettuce is particularly good and sweet this season as well as their kale and spinach, but that their hot weather crops are growing slower.

"Tomato and pepper plants were bigger earlier last year because it was warmer," he said. "We weren't able to get our corn in as early this year because of the wet spring so it's running two to three weeks late. It won't be knee high on the Fourth of July."

Winds hitting 90 mph over Memorial Day Weekend caused some turmoil for Karlene and Jonathan Goetz's farm in Riga in Southeastern Michigan. All the rain in May made it difficult for their plants to root as deeply.

"Our vine crops were affected the worst, which will delay the harvest," said Karlene Goetz. "It hasn't rained for a month so now things are getting too dry."

The spring weather made it hard for Bruce Upston, owner of Wasem Fruit Farms in Milan, to do any early planting.

"Things have caught up and we've got cherries and gooseberries, and we'll soon have peaches and plums," said Upston.

Blueberries from the southeastern part of the state made their debut at the market today. The owners of Erie Orchard, located in Erie, Michigan, just north of the Ohio border, say their blueberries are two weeks later than usual due to all the spring rain.

Carpenter's Organic Produce, which offered a table full of tomatoes at the market today, did its best not to let the weather affect its crop.

"We started in January with a half acre of tomatoes under plastic," explained owner Dwight Carpenter. "The tomatoes weren't affected by the wet and cold, but there wasn't as much sun so they grew slower. The quality is not affected."

Richard Andres, owner of Tantré Farm in Sylvan Township south of Chelsea, had a table full of peas, lettuce, rhubarb, turnips, radishes, onions and strawberries.

"We have a well drained farm with loose light soil so all the rain didn't hurt us," he said. "The weather always bring challenges. We just try to work with it and it makes us work better together as a staff and as a community."