Posted on
Fri, Jun 25, 2010 : 5:55 a.m.
WGN America show, "Sky Dives," visits Zingerman's, Blimpy Burger
By Brian Vernellis
For years, Lee Abrams has been visiting restaurants and diners tucked away in towns across America, favoring spots the locals frequent.
But Abrams' outings don't involve loading up the car with family and friends for a weekend getaway. A licensed pilot since he was a teenager, Abrams flies into towns for a few hours, enjoying one or two eateries before heading back to his home base in Chicago.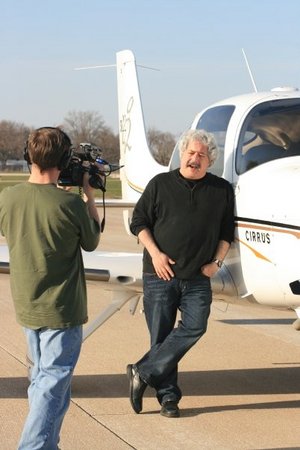 WGN America
The excursions were the basis for "Sky Dives," his 60-second shows on WGN America. This weekend, the network will feature Abrams' visit to Ann Arbor institutions Zingerman's Roadhouse and Blimpy Burger.
"It's basically an excuse for us to go flying and check out America's coolest regional restaurants," Abrams said. "The shows run in commercial breaks as self-standing interstitials. At the end of the season, we'll do a half-hour best of show."
In its second season, "Sky Dives" has flown across the Midwest to spots in Cincinnati; Memphis; Des Moines, Iowa; and Minneapolis. This season, the show has been to Madison, Wis.; Cleveland; Pittsburgh; and Evansville, Ind.
A show on Detroit eateries is forthcoming focused on the multitude of Coney Island restaurants.
Zingerman's and Blimpy Burger have been on Abrams' radar for a long time. He's eaten at the locations before, so it seemed natural to include them in the second season.
"(Ann Arbor) has been a favorite spot for years prior to filming these," Abrams said. "Zingerman's and Blimpy Burger had been on list. Those college towns like Madison and Ann Arbor are usually great."
For their visit to Zingerman's Roadhouse, Abrams and the crew ordered off the menu, getting a serving of barbecued mac and cheese, a catfish po-boy, an English breakfast of eggs, baked beans and sausage, topped off with a pastry basket.
At Blimpy's, the "Sky Dives" gang ordered plenty of fried items (fries, onion rings, broccoli) not to mention the eatery's cornerstone - cheeseburgers.
"We studied the ordering technique, so we didn't get yelled at it," Abrams said. "And we had Vernors everywhere we went."
Abrams didn't say if the restaurants made this season's top-10 list, only adding, "both were right at the top."
Brian Vernellis is a reporter for AnnArbor.com. He can be reached at 734-623-4617 or via e-mail at brianvernellis@annarbor.com.