Posted on
Mon, Nov 19, 2012 : 11:40 a.m.
What did you think of the Michigan football segment on '60 Minutes'?
By Lizzy Alfs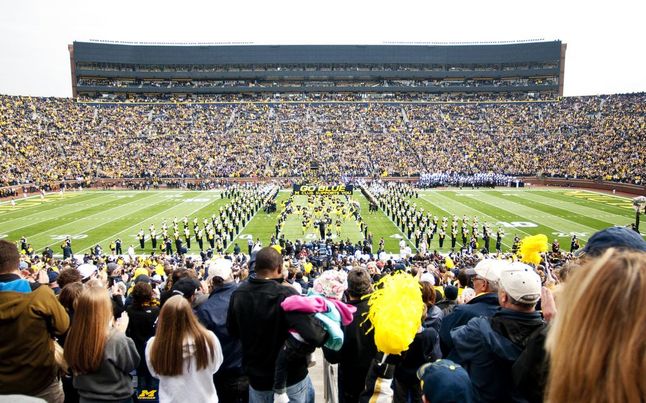 Daniel Brenner | AnnArbor.com
Did you know that
University of Michigan
football revenue accounts for 75 percent of the athletic department's $133 million budget?
Or that Brady Hoke works from 5:45 a.m. until at least 9 p.m.?
These were some of the facts presented during a "60 Minutes" segment aired on CBS News Sunday night, which featured U-M athletic director Dave Brandon. Crews from the program were in Ann Arbor in August and for the first two home games of the year filming the segment.
Brandon, who emphasized the importance of Michigan's football program, talked about the "broken" business model of college athletics.
"You've got 125 of these programs. Out of 125, 22 of them were cash flow even or cash flow positive. Now, thankfully, we're one of those. What that means is you've got a model that's not sustainable in most cases," he said.
He estimated that 60 percent to 70 percent of the university's donations take place during the football season.
But all that money also results in a whole lot of pressure on football players and coaches.
"It is a full-time job," said senior quarterback Denard Robinson. "It's a grind. And it's a grind because you have to do this. Because those games that you are going to face, it's going to take a toll on you."
Brandon, who referred to the players as "kids who are still trying to figure out life," said he worries about the pressure players face.
"Most rabid fans don't see any of that," he said.
What did you think of the "60 Minutes" segment? Was anything surprising or interesting? You can read the full script here, and weigh in on the comments section below.
Lizzy Alfs is a business reporter for AnnArbor.com. Reach her at 734-623-2584 or email her at lizzyalfs@annarbor.com. Follow her on Twitter at http://twitter.com/lizzyalfs.