Posted on
Wed, Dec 21, 2011 : 6:21 p.m.
What happened to the cheap gas around Ann Arbor?
By Paula Gardner
It seemed like a driver's dream: For at least the last week, gas prices have been steadily dropping on the east side of Washtenaw County.
In fact, at least 15 stations - many centered in the Carpenter Road corridor of Pittsfield Township and others in Ypsilanti - had prices of $2.92 per gallon or less on Wednesday morning.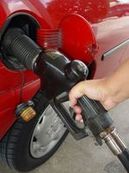 But by 6 p.m. Wednesday, many of those prices had changed - dramatically.
One example: The Speedway at Carpenter and Packard, where unleaded jumped more than 40 cents to $3.39 per gallon in a matter of hours.
On the west side of Ann Arbor, at the Citgo on Jackson Avenue, the price went to $3.39 per gallon on Wednesday afternoon. Across the street at Meijer, the price was $3.09.
Two situations may be at play, said an expert at GasBuddy.com.
"You are seeing a little (market) tension," said Gregg Laskoski, senior petroleum analyst, when prices fall dramatically lower in a market.
While he said Wednesday that price could keep incrementally falling, the $2.80-something prices per gallon seemed to indicate more of a pricing war among competitors than a regional pricing trend.
He also said that holiday price hikes tended to be a myth - but that prices also reflect supplier prices, so the broad price hike around the area may be a sign that several suppliers raised rates.
As for the big swing in prices, he said: "That's a cause for concern."
So just how concerned should a consumer be about the price hike?
Very, Laskoski said, based on typical trends.
The year-end price tends to signal the peak price for the following year. Based on historical averages, whatever we're paying for gas during the last week of December will be what we're paying at top-of-market in 2012, plus 93 cents per gallon.
If that's the bad news, it could get worse: The range for the forecasted peak high is 80 cents to $1.20 per gallon.
That would take us to $4.59 per gallon as the highest end of the forecasted peak for next year.
Meanwhile, Wednesday's national gas price average was $3.22 per gallon this morning. It was $3.28 in Ann Arbor by 6 p.m.
Laskoski's advice: Take the price swings as an indication that there could be lots of variability right now among stations and their pricing.
"Consumers should be attentive to identify places where they can get the cheapest gasoline," he said. "Nobody wants to spend 30 to 40 cents a gallon more."