Posted on
Mon, Apr 9, 2012 : 6:50 p.m.
What roads would you like to see fixed in Northfield Township?
By Lisa Allmendinger
Several potential road projects will be the topic of discussion when officials from Northfield Township and the Washtenaw County Road Commission meet Tuesday night.
Among them are two on Six Mile Road and one each on Five Mile and Eight Mile roads. All four projects include the addition of limestone as well as berm removal and reshaping of the road surface.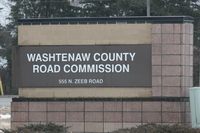 Lisa Allmendinger | AnnArbor.com
The proposed projects include:
On Six Mile Road, from Dixboro to Earhart Road, about 3,700 tons of limestone would be added. The cost would be about $67,000 for the road work and $20,800 for drainage work.

On Six Mile Road from Sutton Road to Spenser Road, about 3,800 tons of limestone would be added. Prooject costs are estimated at $68,300, while drainage costs are estimated at $20,800.

On Five Mile Road between Spencer Road and Sutton Road, the plan calls for roadside berm removal, road reshaping and the addition of 3,850 tons of limestone at an estimated project cost of about $69,000 and drainage costs of about $20,800.
On Eight Mile Road from Spenser Road to Rushton Road, berm removal, reshaping of the surface and 5,600 tons of limestone would be added with project costs of about $98,000 and drainage costs of about $27,700.

Also up for discussion is a cost-sharing project with Webster Township for Maple Road south of Joy Road, including ditching, tree removal, the addition of 45 tons of limestone and reshaping of the road for a total cost of $3,000, half of which would be paid by Northfield Township.
Webster Township has already approved this year's road work contract with the Road Commission and approved it's half, or $1,500, of the total project costs.
Township-wide ditching projects and township-wide limestone applications at $12.52 per ton are also expected to be part of the discussion. About $38,000 was spent on dust control for township roads in 2011 for Northfield's 49.61 miles of gravel roads, and the township contributed toward limestone and drainage work on about 250 feet of Maple Road, from Joy Road south in 2011.
Although the township spent about $42,420 on local road projects in 2011, Northfield has a carryover of $23,337 in matching funds for local roads as well as a carryover of $11,732 in drainage matching funds, which were not used in 2011.
And although the township is getting $661 less in total matching funds for 2012, due to fewer uncurbed roads in the township under the jurisdiction of the Road Commission, $23,873 in matching funds are available for local road projects and $13,732 in matching funds for drainage projects.
The meeting is planned for Tuesday at Township Hall at 7 p.m.
Lisa Allmendinger is a regional reporter for AnnArbor.com, who also covers the Washtenaw County Road Commission. She can be reached at lisaallmendinger@annarbor.com.