Posted on
Tue, Nov 15, 2011 : 7:11 a.m.
Crowd weighs in on plan to cut $14M from Ann Arbor school budget
By Janet Miller
Close the district's three alternative high schools. Make athletics self-supporting. And - a frequent suggestion - slash administration.
These and a host of other budget-cutting options were offered at the second of two community forums held Monday night as the Ann Arbor school district begins to consider how to slash $14 million from the 2012-13 academic year. That's almost 8 percent of the $185 million budget.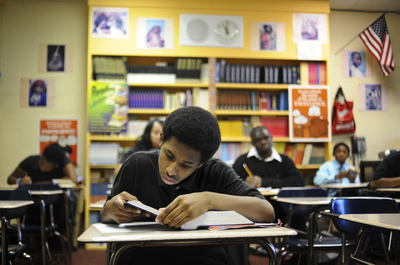 About 150 people packed the Pioneer High School cafeteria to give their two cents worth on the district's finances, although the budget won't be adopted until next June.
An initial forum was held last week at Huron High School, attracting about 60 people.
"It's important to bring the community together to discuss what it is it values and what it is we need to continue to focus on," said Superintendent Patricia Green.
The district needs to be careful what it cuts, said parent Lisa Psarouthakis. Disgruntled families could leave the district.
"If you cut athletics and music, people will choose with their feet," she said. In fact, she said, the district should offer more alternatives - especially at the middle schools - to keep students from leaving.
"Middle school is the weakest link," she said.
And music, art and performing arts should be spared before athletics, Psarouthakis said.
"Before cutting those, I think athletics should be made self-sufficient, although I hate hearing myself say that."
Parent Mark Vorobiev saw things differently, and suggested closing and selling Community High School, located near Kerrytown.
"We have six high schools in the district. Community is prime real estate. I think we should sell the building," he said.
One member of the audience asked how much new Skyline High School costs to operate. Total annual operating costs for the district's third comprehensive high school runs about $4 million, said Robert Allen, deputy superintendent.
The budget pressures are a result of several factors, Allen said. Since 1993-94, when Proposal A changed the way Michigan schools are funded, per pupil funding has increased an average 1 percent a year while the consumer price index rose 2.14 percent. During the same time, retirement costs have risen from 4 percent to the 29 percent projected for the 2013-14 school year. That's 29 cents for every $1 paid in salary, Allen said.
If retirement costs had stabilized at the 16 percent rate it was at a few years ago, the district would be looking at nipping less than $2 million from its budget, Allen said.
"We wouldn't be here tonight if that were the case."
"This is a structural deficit. We will continue to have this same conversation every year…unless there is some legislative action," Allen said. Unless cuts are made now, the district is on course to be in deficit by the 2013-14 school year, he said.
"I do not believe that's where we want to go."
Each year since Allen joined the district five years ago, Ann Arbor schools has cut between $3 and $18 million a year from its budget, he said. The district has trimmed $40 million and used $5 million of its fund equity, or savings, in that time.
While the public frequently calls for administrative cuts, central administration accounts for 3 percent of spending, Allen said. Instructional and student support services account for a combined 78 percent. The total central administration budget is around $5 million annually, he said.
While Ann Arbor is the state's seventh largest school district, it ranks 363rd out of 783 school districts in business and administrative costs, he added.
While the Board of Education has seven months before it decides where to lower the axe, the cuts are sure to touch nerves.
"I don't want to cut anything," said Janice Lieberman."