Posted on
Tue, Aug 23, 2011 : 3:32 p.m.
What's the deal with those rocks in Ann Arbor's West Park? And why all the flags around the pond?
By Ryan J. Stanton
Following up on a story that appeared on AnnArbor.com on Sunday regarding the failure of a new stormwater system at West Park, a reader posed a couple of questions via e-mail.
"I frequently walk through the park and still am puzzled by what appears to be a cascaded water feature that runs along the south side of the park from North Seventh to the pond," the reader wrote. "It looks like it is designed to have a obvious flow of water over the rock cascades but this doesn't seem to be what happens. What water does come down seems to be only a trickle that only serves to cause water stains around the discharge tubing at the cement barrier nearer the pond. Is there supposed to be a good flow? If not, if seems like a lot of work was done for little effect. Also, what are all the flags on the wires in the pond for?"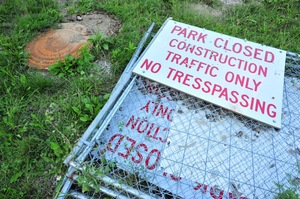 Ryan J. Stanton | AnnArbor.com
AnnArbor.com made an inquiry to the city to get the most precise answer. This is the response that came from
Nick Hutchinson
, project engineer in the city's public services area:
"To answer your reader's questions, the area where water now flows over the surface of the park was designed specifically to handle the runoff that comes from North Seventh Street after a rain storm. Therefore, it will have water in it after a storm but not all the time in between. The rock cascades are what we call 'check dams,' and their purpose is to slow down the water during times of higher flows so that it does not create erosion problems.

"The flags are to dissuade geese from landing in the pond and eating the young aquatic plants while they are establishing. The installation will be taken down in late fall after they are firmly rooted. Our parks department is having some small signs made up to explain this, as we do get this question periodically."
Previous coverage: Ann Arbor investigates failure of stormwater system at West Park; residents concerned about floods
Ryan J. Stanton covers government and politics for AnnArbor.com. Reach him at ryanstanton@annarbor.com or 734-623-2529. You also can follow him on Twitter or subscribe to AnnArbor.com's e-mail newsletters.