Posted on
Sat, Apr 14, 2012 : 5:57 a.m.
New University of Michigan dean wants to integrate artists and research
By Kellie Woodhouse
What's the role of an art college in a major research university?
That's a question the new University of Michigan School of Art and Design dean plans to tackle when he begins this summer. The school's current dean, 12-year veteran Bryan Rogers, is retiring in May.
"Art schools have traditionally not been up front as saying 'We are researchers,' we've never seen ourselves much as researchers, but rather than creative practitioners," says dean-elect Gunalan Nadarajan, currently the vice provost for research and dean of graduate studies at the Maryland Institute College of Art in Baltimore.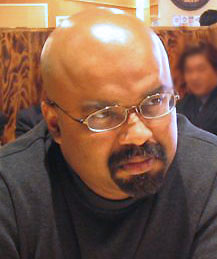 Photo courtesy of University of Michigan.
In recent years a growing number of researchers have been exploring how to integrate arts in research. U-M convened a conference of more than 150 research university leaders, including the leaders of Princeton and Syracuse universities, in May to discuss how to integrate the two.
U-M also established a task force of art school leaders at 34 other research universities in an effort to more clearly define the role of art in research.
"The ways scholars in different fields realize an idea and develop concepts are often very different," Stein Sture, vice chancellor for research at the University of Colorado wrote in a recent U-M ArtsEngine task force report. "In what ways can the arts and art-practice help develop new ways for scientists and engineers to become more creative and innovative?"
Nadarajan says that's one of the challenges he's looking to tackle when he arrives in Ann Arbor.
"I would like to embrace the fact that this is an art school in a major research university and explore that potential," he said.
"Art and design and the engineering faculty and researchers ... could be working together on a larger scale and more complex research issues and problems," he continued. "Today any kind of complex challenge requires a whole range of skills and knowledge. Not just from one discipline."
For example, U-M's solar car team requires engineers to build the car and other disciplines to handle communications and design.
"This is something we've been eager to promote for a long time. I think when people think of the School of Art and Design, often we get lumped into a track of something to put on the walls," explained Jim Cogswell, a SAD Arthur F. Thurnau professor and a member of the search committee that recommended Nadarajan as dean.
SAD already has a loose research relationship with U-M's business, engineering and architecture schools, but Cogswell said those ties can benefit from further expansion.
"We don't have anything as robust as we hope to build," he said.
To accomplish this, Nadarajan wants to capitalize on faculty research by establishing a research nucleus within SAD that can assist professors in grant development and pair them up with other faculty —either within or outside of SAD— interested in similar initiatives.
"Right now, there are no specific research entities within the school and what happens is that a lot of faculty work is driven by their own initiatives and their own energies and their own agendas," said Nadarajan. "A lot of them are reaching out to other schools and other departments ... on their own accord."
Before heading up graduate studies at MICA, Nadarajan led the graduate program at Penn State University. During his time at MICA, he led education and research partnerships with Johns Hopkins University and the National Science Foundation. Before moving to the U.S. Nadarajan went to college at the National University of Singapore, where he also began his academic career.
"Part of this opportunity for research has already been opened up by the university itself," Nadarajan said. "So I hope to build on that and develop what seems like an emerging mission of sorts."
Nadarajan begins as dean on July 1, pending approval of the U-M Board of Regents.
Kellie Woodhouse covers higher education for AnnArbor.com. Reach her at kelliewoodhouse@annarbor.com or 734-623-4602 and follow her on twitter.