Posted on
Sun, Nov 28, 2010 : 6:03 a.m.
Street newspaper 'Groundcover' helps people, brings attention to homelessness
By Heather Lockwood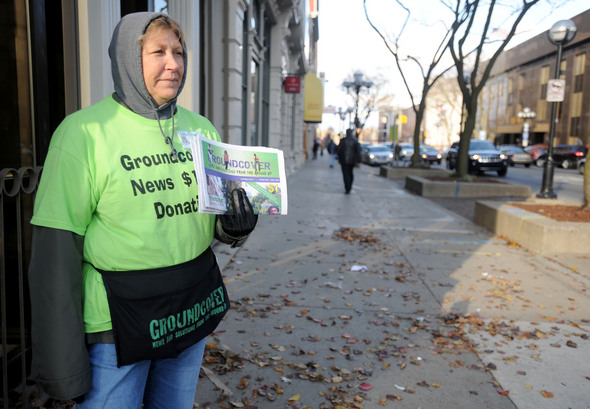 Angela J. Cesere | AnnArbor.com
If you come across a woman offering to sell you a newspaper on an Ann Arbor street corner, there's a good chance it's Shelley Deneve.
Deneve has been selling the Groundcover newspaper, a venture aimed at helping the homeless, for several weeks now. The job has been both challenging and humbling, she said.
Deneve was at an area food bank when she was first approached by a Groundcover vendor.
"I didn't have a dollar to give her, but she offered me the opportunity to do this," she recalled. "I had never thought of doing anything like that before … standing on the street corner — I didn't know how I was going to approach it."
Deneve said it took some time for her to warm up to a job she describes as being "a little out of my comfort zone." Learning how to be an effective saleswoman and finding a "good spot" from which to sell the paper were among the challenges she faced.
"I'm still kind of learning," said Deneve, who spends about 10 to 20 hours selling about 50 newspapers a week.
So-called street newspapers, such as Groundcover, have been popping up in cities across the country — including in Washington, D.C., Chicago, New York and Seattle. And Groundcover is one of about 34 that comprise the North American Street Newspaper Association.
Groundcover, which debuted in July, focuses largely on issues related to homelessness and poverty, as well as local news. Vendors, many of whom are homeless or have been homeless, sell it on the streets for a suggested donation of $1.
New vendors receive their first 10 papers for free, then, if they choose, they can buy more papers for 25 cents each, said publisher and managing director Susan Beckett. Any money a vendor makes selling the papers is his to keep.
Deneve said, though she has never been homeless, she has come close to being evicted from her townhouse in Ann Arbor, where she lives with her husband and two sons, ages 14 and 27. She said she has lived in the complex for about 23 years and has been unemployed since losing her job with Lake Trust Credit Union in Plymouth, Michigan, in August.
Deneve said she may have to cut back on her time spent selling the paper beginning in January, not because of the cold weather, but because she will be attending Washtenaw Community College where she is enrolled in seven credit hours of classes. She said she is also looking for a part-time job doing data entry.
Her long-term goal — to open her own business in Ann Arbor.
The entire Groundcover staff, including vendors like Deneve, consists of about 60 to 70 people, Beckett estimated.
"We're all volunteers," she said of the editorial staff. "The only people who get any money, at this point, are the vendors."
Beckett said she got the idea to start a street newspaper in Ann Arbor while visiting her daughter in Seattle a few years ago. Everywhere she went in the city, she said, people were selling a newspaper on the streets called Real Change.
"When I saw the street newspaper and realized what the concept was ... I was intrigued," Beckett said.
How to help
Anyone interested in volunteering or becoming a vendor for Groundcover should contact Susan Beckett at contact@groundcovernews.com or go to Bethlehem United Church of Christ, 423 S. Fourth Ave, room F1, between 10 a.m. and 2 p.m. Monday, Wednesday, Thursday or Friday.
She said Groundcover has trained about 34 vendors so far, and about a dozen of them sell the paper on a regular basis. The paper prints about once a month, though the upcoming December and January issues will be combined. The paper is printed by the
Tecumseh Herald
.
To be eligible to sell the newspaper, Beckett said, one must be "housing insecure." "Which basically means, for most people, they have experienced homelessness in the last five years," she said.
She said vendors' sales vary greatly, and collectively they buy nearly 2,000 papers to sell each month.
"It so varies. The vendor who's selling 1,000 papers or more a month, that's really his source of livelihood. He's got an apartment now," Beckett said. "We have others who just use it, particularly those living on the streets, to meet their basic needs."
She said some vendors have been able to find a part-time job or save money to afford their own apartment. They are allowed to continue selling the newspaper as long as they need the extra income.
"Once a person has started achieving success in your program you don't kick them out," she said.
Since he started his job as a vendor, Robert Salo has realized the value of saving money, he said.
"I was homeless when I first got to Ann Arbor, and I was staying at the Delonis Center (homeless shelter)," he said. "I only had the clothes on my back. Now that I'm working I know how to save. And it's better to save."
For the first time in a few years, Salo has a place to call his own — but he's not there often. He says he spends about eight hours a day, seven days a week selling the Groundcover newspaper in downtown Ann Arbor.
Salo said he has been selling the paper at the corner of Liberty and State Streets lately, but sales tend to be slower there than in other locations.
"I'm on one of the hardest corners," he said. "It's a pretty hard crowd to deal with. … The kids are on plastic, and they have debt from school."
His business strategy — "I make them smile," he said.
In the months before the first issue printed, Beckett said, she visited area homeless shelters and places that offered free meals to recruit vendors. But now most prospective vendors seek out the paper after learning about it from friends or talking to current vendors.
Besides being a source of income, Beckett said, the job is "extremely validating" for vendors, providing them a sense of purpose and linking them to the community.
"It's a street newspaper so bridges can be built between the homeless community and the community at large," Beckett said. "One of the worst aspects of being homeless or very poor is you become somewhat invisible."
Christopher Alexander has been a freelance reporter for Groundcover since September. He said he graduated from East Tennessee State University in May with a bachelor's degree in journalism. Because he is not paid, Alexander said he relies on a second job at an area restaurant for income.
"It's my dream job — if there were a check involved," he said. "It's a great job, I just have to keep my day job."
Volunteer reporter Phil Hannuksela said homelessness is a problem everyone should be thinking about.
"It's really important that the extent of this problem be understood," Hannuksela said. The current poor economic climate and homelessness problem are not likely to go away soon, he said. "There are a lot of people who are close to being homeless."
Laurie Lounsbury, Groundcover editor, said her background as a journalist and her interest in the newspaper's concept prompted her to get involved.
"I've been laid off. I know what it's like to be right on the edge financially," Lounsbury said. "I like the idea that these people are living right on the edge ... and can build a little bit of a safety net."
All of the vendors wear badges, and many wear small aprons and shirts to indicate that they work for Groundcover. Elmo's Main Street T-Shirts agreed to donate aprons and two T-shirts bearing the paper's name to each vendor.
Owner Elmo Morales said he thinks vendors will have better luck selling the newspapers if their clothing clearly identifies them to would-be customers. He said some of the vendors have opted to buy a matching sweatshirt to wear during the colder winter months.
"This is a real fine way of helping people get on their feet," Morales said. "And it gives them something to do during the day, and it gives them a group to be part of."
Though he said he supports the concept, he has concerns about the "saturation" of vendors in the downtown area.
"In one way it's good, in another way it will be annoying to people to be accosted, almost, at every block," he said.
A vendors' code of conduct can be found in each edition of the paper. According to the code, vendors agree not to ask for more than a $1 voluntary donation for each copy of the paper, not to sell additional goods or panhandle when selling the paper, not to "hard sell," and to sell papers only on public property, among other things. Vendors also agree not to sell the paper within a city block of each other, but Beckett said vendors should be far enough apart that they cannot see each other.
Beckett said vendors do not have assigned corners, but if a vendor sells 800 papers or more in a month, her or she receives a "curb coupon," which allows the seller to claim a corner for an entire month.
Bethlehem United Church of Christ, 423 S. Fourth Ave., recently agreed to allow Groundcover staffers to use one of its classrooms as an office space for at least one year. Groundcover does not pay rent for the space, which it occupies a few days a week, but instead provides the church with free advertising in the paper, Beckett said.
Beckett said Groundcover has sold some advertising space to other area religious organizations, the People's Food Co-Op and Ten Thousand Villages. She said the newspaper would benefit from having a volunteer to manage its advertising sales.
She said she is also interested in expanding sales beyond downtown Ann Arbor, as well as possibly offering a subscription.
Deneve expressed her gratitude to everyone who has contributed to or supported the paper so far.
"Thank you to all who have contributed to buying the paper, and please pass the word on to friends and neighbors, coworkers, churches," she said. "It gives me great pride when people tell me that we're doing a good thing."
Heather Lockwood is a reporter for AnnArbor.com. Reach her at heatherlockwood@annarbor.com or follow her on Twitter.