Posted on
Mon, Dec 24, 2012 : 2 p.m.
White Christmas should be in store for Ann Arbor thanks to Christmas Eve snowfall
By Ben Freed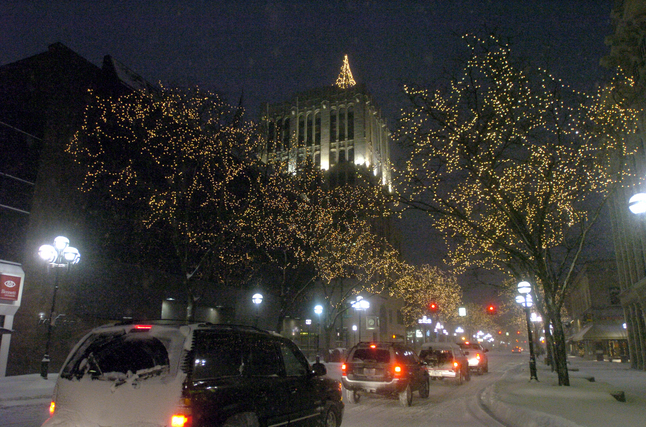 Alan Warren | Ann Arbor News
Irving Berlin
dreamed of it,
Bing Crosby crooned it
, meteorologists measure it, and
Ann Arbor
likely will experience it this year. The idea of a "
White Christmas
" is well established in pop culture, but also is
quantified by weather observers
.
University of Michigan staff meteorologist Dennis Kahlbaum said for a Christmas to officially count as "white," there must be an average of at least half an inch of snow on the ground.
"You could have a trace, which is less than half an inch, and some people might argue that it's sort of a white Christmas," he said.
"But in weather observation terms if you have a half-inch or greater of snow on the ground, that's considered to be a one-inch snow cover which qualifies as a White Christmas."
This year, there's no snow forecasted for Christmas day, but a projected one-inch snowfall on Monday should be enough to provide the necessary ground cover.
"It looks like it will most likely happen this year," Kahlbaum said. "There's no warming projected overnight or tomorrow morning that would melt it away."
Current forecasts call for a sunny Christmas day with temperatures topping out at 34 degrees and winds up to 9 miles per hour.
Since measurements were first taken in 1880, there have been 66 "white" Christmases, exactly half of the 132 years recorded. Kahlbaum said that means there is a 50 percent climatological chance for a White Christmas in Ann Arbor.
The last White Christmas was in 2010, when there were four inches of snow on the ground. The early 2000s were very white, with six years in a row from 2000 to 2005 measuring at least one inch of snow.
The year 2000 was the second "whitest" Christmas on record in Ann Arbor. The 14 inches of snow that year was second only to the 15 inches measured in 1884.
Kahlbaum said while it's not expected to snow on Christmas day, the following day could bring the biggest snowfall of the season so far.
"Wednesday there's a 3- to 6-inch possible snow storm, but that's part of a different system," he said.
"We're on the fringe of a major storm that will be passing to our south. If that storm moves 50 miles to the north or south it could make a significant difference as to how much snow we get."
The National Weather Service currently is projecting 4 inches of snow for Ann Arbor on Dec. 26.
Ben Freed covers business for AnnArbor.com. You can sign up here to receive Business Review updates every week. Reach out to Ben at 734-623-2528 or email him at benfreed@annarbor.com. Follow him on twitter @BFreedinA2