Posted on
Mon, Mar 8, 2010 : 11:49 a.m.
Whooping cough cases in Washtenaw County at record levels this season
By Tina Reed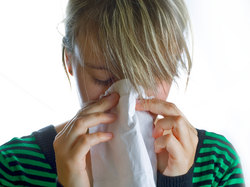 It can manifest itself as a simple cough that won't go away.
Or - as it happened to one Washtenaw County man this year - the whooping cough can lead to coughing so hard it makes a person pass out. Officials say cases of the respiratory illness have reached record levels this season - and they're not sure why.
In 2009, there were at least 81 confirmed cases of whooping cough, otherwise known at pertussis, the highest number since electronic records started in 1992. The second highest number of cases was in 2003, when there were 36 cases of whooping cough.
So far this year, 15 confirmed cases of whooping cough have been recorded. A typical year sees about 20 total cases, said county epidemiologist Laura Bauman.
Last summer, county officials said cases appeared to be up from usual levels. It is not clear why there have been a surge in cases, Bauman said. 
"In public health, we're all trying to figure it out," she said. "We're seeing an increased number of cases across the entire state right now."
Bauman said it's possible improved testing has identified more cases, fewer parents are getting their kids vaccinated or it could simply be part of a disease cycle. Whooping cough is very contagious and like many respiratory illnesses, is spread through droplets that are, for instance, expelled from a cough or sneeze.
Whooping cough, officially named pertussis, has symptoms that include a persistent cough and sudden coughing spells that are so forceful, a person feels he or she might vomit. In children, it can often include a whooping sound when breathing in.
In the worst cases, which typically impact infants who have not finished their vaccination series, whooping cough can lead to hospitalization and even death.
The Centers for Disease Control and Prevention says an upsurge of whooping cough seems to occur every three to five years.
Tina Reed covers health and the environment for AnnArbor.com. You can reach her at tinareed@annarbor.com, call her at 734-623-2535 or find her on Twitter @TreedinAA.