Posted on
Wed, Oct 31, 2012 : 5:59 a.m.
Whooping cough: Health officials urge vaccinations as cases present in Washtenaw County
By Amy Biolchini
State and local health officials are urging people young and old to be vaccinated against whooping cough as the disease continues to be present in Michigan and Washtenaw County.
Whooping cough, more formally known as pertussis, is a very contagious respiratory illness caused by bacteria. It spreads from person to person through close exposure, said Dr. Alice Penrose, medical director for Washtenaw County Public Health.
To date, 22 cases of pertussis have been confirmed for the 2012 calendar year in Washtenaw County -- five of which were reported during September and two in October.
In Michigan, 597 pertussis cases have been reported as of Sept. 30.
The number of cases this year have not amounted to the same epidemic-levels that they reached in 2010, when Washtenaw County had the highest case count in the state with 232 confirmed cases.
During the 2010 epidemic, 50 whooping cough cases were reported in the month of September during a spike in the case count. There were 26 confirmed cases throughout all of 2011.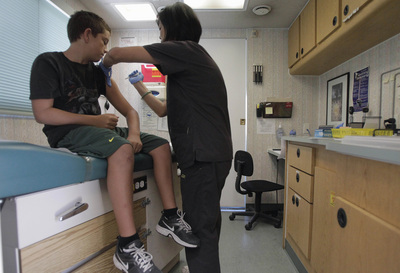 Jae C. Hong | The Associated Press
"When the kids are getting back to school it's a common time to see an increase," Penrose said, noting that pertussis is not tied to influenza case trends.
Symptoms of pertussis include runny nose, slight fever, diarrhea, coughing fits, as well as coughing hard enough that it leads to vomiting.
Additionally, if a person is making the characteristic "whooping" noise after they cough they should see a doctor.
The first symptoms typically look like that of a common cold and begin about a week after exposure to the bacteria. About 10 to 12 days later, the severe coughing bouts begin. Infections typically last about six weeks.
Infants are at the highest risk for dying from the disease.
Throughout the past five years, there have been no whooping cough deaths of Washtenaw County residents.
The relative decrease in case load since 2010 could partially be attributed to the number of people receiving immunizations, Penrose said.
"Pertussis comes in waves," Penrose said. "It tends to reach a population, and then a lot of people become immune."
However, 2010 was a bad year overall for whooping cough: 27,550 cases were reported in the U.S. From 2011 to 2012, Michigan and California were the only two states in the country to see a decrease in the number of whooping cough cases reported; the rest of the states saw a marked increase.
"The big reason for vaccination is that it can be a life-threatening disease," Penrose said. "You want to get as many people vaccinated as possible to protect (everyone) as some people can't get vaccinated."
Vaccination for pertussis is included in the DTaP vaccine for infants, which also includes the vaccines for tetanus and diphtheria.
For children between the ages of 11 and 18 years old, as well as for adults over the age of 18, the vaccination for pertussis is included in the Tdap vaccine.
Health officials are now recommending pregnant women receive a single dose of the Tdap vaccine during the third trimester, Penrose said.
Penrose said that even if an adult has been vaccinated against pertussis and their child gets the disease, the adult should also be on the antibiotic treatment.
"It's an imperfect vaccine," Penrose said.
The Tdap vaccine is about 95 percent effective for the tetanus and diphtheria portions, and is about 80 percent effective for the pertussis portion, Penrose said.
In 2011, a total of 933 people were vaccinated against pertussis in Washtenaw County and 644 of them were over the age of 18.
Penrose stressed that even though an individual may have had whooping cough at some point in their life, their immunity may wane over time.
In Washtenaw County, if a child in a classroom has pertussis, then a letter is distributed to the students in the classroom to take home informing the parents of the need for vaccinations. Penrose said she did not know of any specific classrooms or schools where letters had been sent this year.
Amy Biolchini covers Washtenaw County, health and environmental issues for AnnArbor.com. Reach her at (734) 623-2552, amybiolchini@annarbor.com or on Twitter.