Posted on
Sat, Aug 13, 2011 : 5:58 a.m.
Who's a townie? Facebook group started by Trevor Staples may have the answer
By Lucy Ann Lance
What makes someone an Ann Arbor townie? With nearly 2,500 members and a matched amount of online posts, the Facebook group Ann Arbor Townies ONLY! has become the gathering spot for old Ann Arbor memories like these:
"Did anyone shop with their parents at Goodyear's Department Store at Main and Washington? I was fascinated as a young lad with their airtube and canister system to shuffle paper records around the store." - Geoff Baker
"I remember when my grandmother's phone number started with Normandy and not 662....and the play area upstairs Goodyear's!!"- Mary Conlin
"Quality Bakery on Main Street had the best frosting on their cakes"! - Teresa Babcock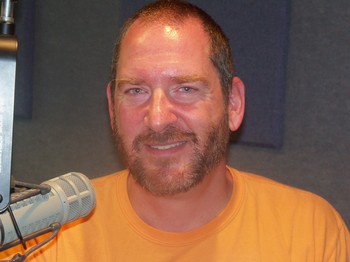 The man behind the site is Burns Park Elementary School third grade teacher, Trevor Staples, who joined me on 1290 WLBY this past week.
Staples: I was born at the old St. Joe (St. Joseph Mercy Hospital) back in '67. There's lots of discussion in the city about what makes a townie, so I thought I'd throw something up there on Facebook and see what everybody thought.
Lucy Ann: This site goes back to 2008. How did you conceive the idea?
Staples: The first post I did to start this discussion was, "OK, smarty pants, what makes you a townie?" Friends of mine were on there and it was a discussion of people in my age group and from the high schools I went to, Pioneer and Community. There were a few hundred people on the page. About two weeks ago I got a message from Facebook saying there's not much action on the group, so we are going to archive it, which means they are going to end it. So, I sent an e-mail to the group and said if you want it to stay here, start posting things. That was two weeks ago and now there are almost 2,500 people on it. For some reason it just blew up then. What makes this group is that anyone can get on and anyone can add people, and it's just this sort of community mess where people are posting and posting.
"In the 60's, we danced at 'Fifth Dimension' and saw the Shangri-las at 'Mother's' - which was in the old Armory building. "- Kathie Lucas Kennedy
Lucy Ann: After reading what people are posting on there, I start wondering if I really grew up in this town. I thought I knew everything about it, but I've learned a lot from this site through other people's memories.
Staples: My favorite part is the photos people are posting. There was one recently posted of Falsetta's on Washtenaw, and the party store is still there. It used to have a little window where you could go up and get ice cream.
Lucy Ann: Dago Dip. Remember? That was the name. They got in a bit of trouble for using a slang word, even though they were Italian.
Staples: My parents use to play softball at Buhr Park, and we would go there afterwards and get slushies. Seeing that picture was like, "Oh, wow, I do remember that." And there are mysteries, too. Next to the old St. Joe's there was a parking structure made out of iron, and it was almost like a Ferris wheel. You'd park your car in there, you'd get out and the attendant would send your car up into the parking structure and into a slot.
"I'm thinking about when Cobblestone Farm was derelict. I got CR credit from Community High for participating in an archaeological dig one summer. It was fascinating." - Marci Woolson
Lucy Ann: There is a photo on the site of the old Betsy Ross restaurant in Nickels Arcade and a picture of the menu.
"Do you remember the soap box derby races in front of Pioneer when they would close down the road?" - Paul Gronvall
"Roller Skating at World of Wheels..." - Teri Hagen-Cranson
Lucy Ann: Your father is Ken Staples, a builder here in town. Did he grow up here?
Staples: He moved here in fifth grade.
Lucy Ann: Is he a townie then?
Staples: ... I consider him a townie. His parents, my grandparents, lived on the corner of Washington and Seventh, and my aunt still lives there and that's been 60 years. You get on (the site) and think of yourself as a townie and then someone like Michael Jewett (WEMU radio host) gets on and says, "I'm fifth generation born here." Oh, I guess he's even more townie-ish!
"Anyone remember going to the Wilson Immel Meat Packing Co. in Ann Arbor? It was owned by my uncles". - Teri Hagen-Cranson
"Weird Ann Arbor fact: My sister, Sally, dated Iggy Pop back when they both attended Tappan Junior High School." - Geoff Larcom
"Sylvia's Studio of Dance on E. Liberty. Who took ballet or tap there? And was Mrs. Hamer your teacher?" - Lynn Parker
Lucy Ann: Someone on the site wondered if because times are so tough now - the stock market with its wild gyrations, the economy, everything going on politically - that many of us are wishing for the old days. In our minds we've created a sense that it was a beautiful time, and you want to go back to that. That's how I feel when I read these posts. It makes me long for the old days.
Staples: It does seem like a really different place when you look at the pictures. There are a lot of people in town who believe that things should slow down, development or whatever it is. My attitude is Ann Arbor is always going to be whatever Ann Arbor is. The cool thing is that it does change. It's nice being able to see how it was when my parents and grandparents were teenagers growing up here.
"I took my Mother to see Ricky Nelson at The Second Chance in the mid '70s and thought it would be boring but had a blast." - Steven Hornback
Lucy Ann: I tell young people, just cherish the moment you are in right now. It is so fleeting. I can't believe I'm not that young girl from the 1970s anymore. Especially after reading on your site about all of the fun things we used to do. It was just such a lovely childhood growing up here in Ann Arbor. Just enjoy it and cherish it. We want to hurry when we are young to grow older. I think if you can somehow just enjoy the moment, you'll be far better off.
"Who learned to dance at the Women's City Club on Washtenaw?" - Alex Ware
"Oh, yes. Miss Young and Mr. Dove. Do you remember skipping out to Miller's Ice Cream? - Jill Miller
Lucy Ann: So, who is an Ann Arbor townie?
Staples: There's this guy around town who sits on a corner with a typewriter, and he has a sign that says: I'll write you a poem, you name the price, you name the topic. So, I named the price, and I said, "I'm going on the radio and I need a poem about townies."
Lucy Ann: What's his name?
Staples: David Julius Caesar Salad. This is the debut of the first … townie poem.
Students move to A2
Eager to bleed maize and blue
In student ghettos they do grow
Sorority sisters, fraternity bros
Buried in books, they never look
At quirky characters and funky nooks
Way over on the Old West Side
Where most locals do reside
They ring the bells in Kerrytown
And drink Bells beer all year round
When football traffic creates a fuss
They flock in numbers to Kiwanis
Crazy Wisdom, doors for fairies
Fleetwood Diner, Washtenaw Dairy
These are places townies go
If you've been there, then you know
To be a true Ann Arborite
There is no need for a birthright
The longer you linger, the more you will find
Being a townie is a state of mind.
- David Julius Caesar Salad
Lucy Ann: I love it! That sums it up for anyone who debates the issue that if you weren't born here you couldn't possibly be a townie. Of course you can!
Staples: The funny thing is that he performed this on my porch, and I pointed down to the Fairy Door we have on the porch, and the mailbox is an Oberon cap. It was hilarious!
Lucy Ann: I think this is a book. Have you thought about turning all of these Facebook posts generated from the Ann Arbor Townies ONLY! group into a book?
Staples: It's just blasted so fast and exploded, I haven't really thought about it. One problem with the site - and it's a Facebook problem - is that it's not organized at all and now that there are thousands of posts being posted all of the time, people are starting to get frustrated being able to find posts. So we are trying to figure out a way to better organize it.
Lucy Ann: What are your cherished memories of Ann Arbor? Trevor Staples invites you to join the conversation online at www.facebook.com/groups/AnnArborTownies/.
"In 1964 Jean Conlin and I spotted Bob Dylan and Joan Baez coming out of the Baskin Robbins on Stadium. We talked with them and he invited us backstage after his concert that night. We were too shy, and lost our chance to be groupies forever!" - Kathy Marks
"I miss the "Whiffletree" and "La Pinata" and "Stadium Tavern" - Steven Hornback
"Arlen's in Westgate, Winkleman's in Arborland, Stein & Goetz on Main … and I still think Bimbo's had the best pizza ever!" - Elizabeth Donnelly
***
Author's note: There are still a few places you can get Matt "Bimbo" Chutich's square cut pizza: Side Lake, Minnesota; Marietta, Georgia; and Kalamazoo. Not sure how far they deliver; because as much as I crave a Bimbo's Pizza, this townie is never leaving A2.
Lucy Ann Lance & Dean Erskine own Lance & Erskine Communications, which produces "The Lucy Ann Lance Business Insider" (M-F, 8 a.m.-11 a.m.) and "The Lucy Ann Lance Show" (Saturdays, 9 a.m.-12 p.m.) on 1290 WLBY. The programs are live streamed at www.1290WLBY.com, and podcast on www.lucyannlance.com. The above interview is a condensed version of a longer conversation that is edited for clarity. The complete audio interview is posted online at www.lucyannlance.com.