Posted on
Sat, Sep 15, 2012 : 5:59 a.m.
Former executive sues Domino's, alleging it reneged on stock option promises
By John Counts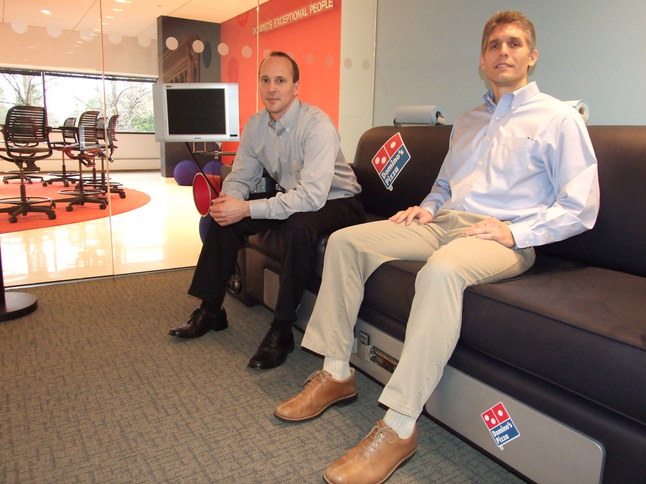 AnnArbor.com file photo
A former high-level employee at Ann Arbor-based Domino's Pizza is suing the company, claiming it didn't live up to its stock option promises.
Jim Vitek, former Domino's director of e-commerce, has filed a lawsuit against the pizza company where he worked for 15 years, claiming he was cheated out of his stock options and other benefits when he was terminated in July 2011.
Whether or not there was cause for Vitek's termination is at the heart of the dispute. Vitek claims he was fired when he and other executives at Domino's were asked to renegotiate their salaries. Domino's says he was insubordinate when he refused to sign a confidentiality and non-compete agreement.
In the lawsuit, Vitek says he helped create and develop Domino's main computing system, PULSE, including the Pizza Tracker feature, which allows customers to keep tabs on their order until it's delivered. He was also developing new technologies on his own time, though, his lawsuit claims.
The new contract included a non-compete clause, which made any inventions employees developed property of Domino's. This could apply retroactively, which would have put one of Vitek's pending patents, a new smartphone application, in jeopardy of becoming Domino's property.
Vitek's invention is described as a new app platform that would allow multiple content contributors to share advertising revenue. He is currently working full-time on the AppKey project. Domino's, being a single advertising entity, would have no way of using it, the lawsuit claims.
The suit claims the application has "nothing to do with Domino's business". It also claims that employees had been allowed to invent things on the side before executives were asked to renegotiate.
Vitek wanted no part of the contract, so his employment with Domino's was terminated. AnnArbor.com attempted to contact Vitek. He chose to have his attorney, David Blanchard, comment on his behalf.
"We are here because Domino's forced Vitek to choose between giving up all rights in his inventions and ideas, even those developed on his own time, or give up his job," Blanchard said. "True to his principles, Vitek chose to protect his ideas and lost his job. That stung. But it was a choice he walked into openly. The part Jim did not expect was that Dominos would then manufacture excuses to take the stock and benefits that had vested in him over his 15 years of service to the company."
Blanchard said that around the time of Vitek's firing, about $33,000 worth of stock options disappeared from his financial portfolio. But he said Vitek probably lost much more.
When contacted, Domino's said it does not comment on pending litigation. The company is being represented by Daniel Bretz and Connie M. Cessante of the Clark Hill law firm, which has an office in Detroit.
"We prefer to make our case in court," said Tim McIntyre, vice president of communications, in an email.
In its response to the suit, Domino's filed a motion to either dismiss the case or move it down to district court. Domino's says the stock options when they were issued to Vitek in 2003 were worth $17,320, and the value should remain there because Vitek was fired.
A disputed amount has to be $25,000 or more to be part of a civil case in circuit court.
"Domino's maintains the facts will show that Vitek was terminated for cause and, therefore, entitled to no damages for loss of stock options," attorneys for Domino's wrote in the response to the suit.
In the motion, Domino's lawyers said Vitek was terminated on July 19, 2011, after he "insubordinately" refused a directive — to sign the confidentiality and non-compete agreement. This refusal equals cause for termination, the motion argues.
The lawsuit asks for unspecified monetary relief and damages.
The case is scheduled for a hearing in Judge David Swartz's courtroom in the Washtenaw County Trial Court on Oct. 3.