Posted on
Mon, Jan 21, 2013 : 2:56 p.m.
Will downtown Ann Arbor ever change much? While some parts see dense development, others likely won't
By Ryan J. Stanton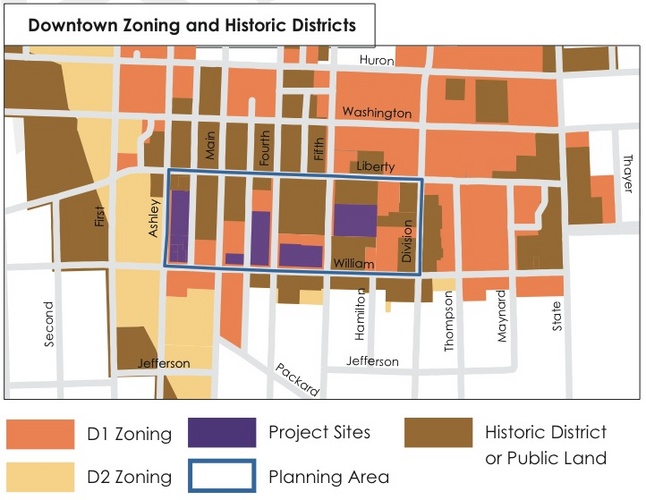 Ann Arbor DDA
The emergence of a
new plan for redeveloping city-owned properties
downtown — on top of other developments already in the works — has some
Ann Arborites
embracing more density and others fearing the downtown might dramatically change forever and lose some of its charm.
But as zoning maps show, and as city officials point out, many parts of downtown Ann Arbor — including some of the most familiar stretches along Main, Liberty and State streets — are protected by historic districts and likely won't ever change much.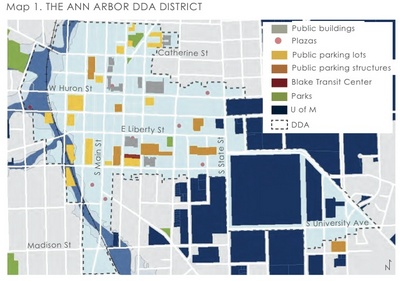 Ann Arbor DDA
Mayor
John Hieftje
, who has
lived in Ann Arbor since 1951
, estimated less than 40 percent of downtown Ann Arbor ever will be redeveloped because of the zoning designations and restrictions on properties.
"The sections of Main and State that we all love will always be off limits to redevelopment," he said, adding the same goes for much of Liberty and William and parts of Washington and Fifth.
"Then we have the Old West Side and the Old Fourth Ward Historic Districts butting right up to downtown," he said. "Those areas will always be off limits to new development as well."
Although, there's fear among some that a new 14-story apartment high-rise proposed for Huron Street could cast a damaging shadow over their historic neighborhood to the north.
The city's Planning Commission postponed consideration of the 413 E. Huron St. project last week amid an outpouring of opposition from residents. However, that's a by-right project on private property in a D1 zoning district and the city might not be able to do much to stop it.
Susan Pollay, executive director of the Downtown Development Authority, said it's true that much of the property in the DDA district is located either within historic districts, floodway/floodplain areas or public property, including land owned by the University of Michgian.
"Moreover, the very short blocks in downtown that make it so walkable also means that much of downtown real estate is public right-of-way, including alleys, sidewalks, and streets," she said. "In fact, only 39 percent of the DDA district — the section of our community that our community set aside for the highest density — is developable without zoning restrictions of some kind."
Hieftje noted the buildings on Main Street — in a protected historic district — are the same as when he was a young boy, and he said the same goes for State between Liberty and William.
"Beyond that, history indicates that if there is going to be any new development on city-owned parcels, it will take a while," he said, noting that other than a small strip of land by the Blake Transit Center, the city has parted with only one downtown parcel in at least the last 12, maybe 25, years.
"It's on First and Washington where a new parking structure is going up with residential built to accommodate working people on top," he said. "There used to be an old parking garage there."
In the meantime, Hieftje said, the city has protected more than 4,000 acres of farmland around the city through its Greenbelt Program and bought several parcels in the city for new parks.
"The only parcel I see the city taking action on anytime soon is at Fifth and William, the old YMCA lot," Hieftje said. "Judging by recent sale prices in the downtown, there is a good opportunity for the city to cash in on its investment and even have some dollars left over."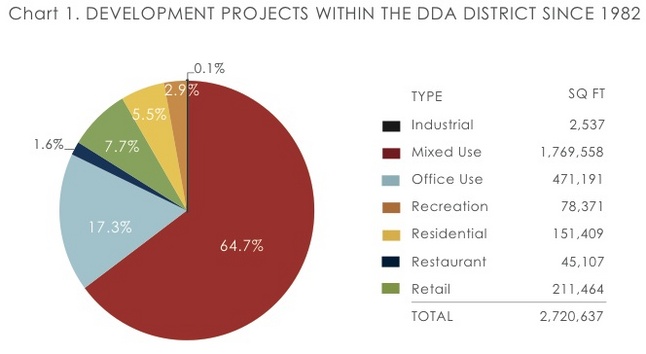 Ann Arbor DDA
Ann Arbor DDA
Ryan J. Stanton covers government and politics for AnnArbor.com. Reach him at ryanstanton@annarbor.com or 734-623-2529. You also can follow him on Twitter or subscribe to AnnArbor.com's email newsletters.