Posted on
Wed, Dec 14, 2011 : 2:55 p.m.
Will new scoreboards at Spartan Stadium 'leapfrog' U-M's recent installations?
By Kellie Woodhouse
The historic rivalry between Michigan State University and the University of Michigan continues, and although the latest episode is taking place in the football stadium, it's not between players.
It's between scoreboards and, according to MSU Deputy Athletic Director
Greg Ianni
, U-M is about to get "leapfrogged" by the
Spartans
.
The MSU Board of Trustees last week approved an $8 million scoreboard replacement and sound system upgrade at Spartan Stadium, which has two scoreboards on the north end and a larger scoreboard on the south end of the field.
The south-end scoreboard is significantly larger than the new video scoreboards U-M installed earlier this year, Ianni said.
"It's a monster board," he said in an interview with AnnArbor.com.
U-M earlier this year spent $20 million to replace its football, hockey and basketball scoreboards. The new Big House scoreboards are 62 feet tall and 108 feet wide, about 40 percent larger than the former boards, and show instant replays and video of U-M's other sports teams.
In an interview earlier this year, U-M Athletic Department Chief Marketing Officer Hunter Lochmann praised the scoreboards for "changing the dynamics of event presentation" and "re-creating the atmosphere" at Michigan Stadium.
U-M Athletic Director Dave Brandon has said the scoreboards are part of a larger marketing strategy and create a "wow factor" for fans who visit the stadium.
Ianni said MSU is looking to do the same, but even better.
"We just want to be able to entertain better," he said, adding that several Big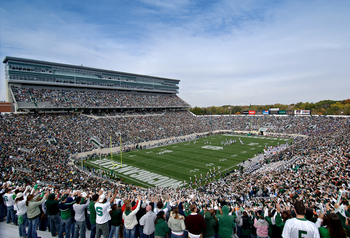 Photo courtesy of Michigan State University Board of Trustees

Ten football programs, including Ohio State University, the University of Iowa and the University of Minnesota, in addition to U-M, have upgraded their football scoreboards recently.
"It is what folks are doing around the league and it's our turn to catch up," he said. "And what you like to do… is leapfrog the guy who just went before us."
Ianni was adamant that the upgrade is not in response to U-M, specifically.
"The only place we have a rivalry with Michigan is on the field," he said.
Ianni declined to release the exact dimensions of the new scoreboards, saying they're subject to change. He said that in addition to the new scoreboards, MSU is looking into installing a video wall that "is unlike any technology that anyone has in college sports right now."
"It would be unique," he said of the wall, which would be larger than the proposed south-end scoreboard if purchased by MSU. Ianni said MSU is "not sure if we can fit that into our budget."
MSU's new scoreboards will include digital advertisements. Ianni said a rendering that surfaced on the Internet earlier this year is not a correct depiction of the new boards.
The existing scoreboards were installed in 1998 and the largest one is 28 feet high and 35 feet wide.
Kellie Woodhouse covers higher education for AnnArbor.com. Reach her at kelliewoodhouse@annarbor.com or 734-623-4602 and follow her on twitter.