Posted on
Thu, Nov 4, 2010 : 6:02 a.m.
Will Rick Snyder follow through on promise to push forward an environmental agenda?
By Ryan J. Stanton
As Ann Arbor's Rick Snyder prepares to become Michigan's next governor, conservationists are now asking: What does it mean for the Great Lakes and the environment?
Will the Republican businessman push forward the environmental agenda he promised during his campaign?
Will his desire for less government regulation conflict with the necessary oversight of pollution-causing factory farms and coal-fired power plants?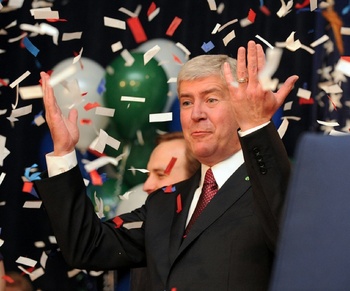 Lon Horwedel | AnnArbor.com
Who will Snyder name to run the Michigan Department of Natural Resources and Environment? Could his efforts to slash state spending possibly translate to decreased funding for the DNRE?
As those questions are being asked, the Ann Arbor-based Michigan League of Conservation Voters says it's "cautiously optimistic" Snyder will deliver the right answers.
Ryan Werder, the LCV's political director, said his group has been pleased to see Snyder's campaign platform include a focus on a number of key environmental issues. But, he said, Snyder's stances in many areas still remain ambiguous or unaddressed.
The decisions in the early days of Snyder's administration, Werder said, will serve as a strong indicator of his potential as a conservation leader.
"He ran a campaign that really did engage on key conservation questions — reviving the urban core, the Great Lakes, Pure Michigan," Werder said. "It was very encouraging to see a Republican talk so passionately about these environmental issues. Of course, there were a number of issues he didn't talk about, which is where the caution comes from."
Snyder gives environmentalists reason for hope, though. During his victory speech in Detroit Tuesday night, he told a cheering crowd that quality of life, including protecting the environment, is one of the three key pillars to his vision for a new era in Michigan.
"We are truly blessed in this state with some of the world's greatest natural resources," Snyder said, mentioning the state's 11,000 lakes and the Great Lakes. "But we're going to have to work harder to protect them. We have threats of things like the Asian Carp. We need to enhance them. We need to enjoy them. We need to market them better with things like Pure Michigan."
Protecting the environment also is included in Snyder's 10-point plan to reinvent Michigan. The former Gateway Computers president several months ago put out a position paper on protecting the Great Lakes from Asian carp and other aquatic invasives.
That has been encouraging to groups like the LCV, Clean Water Action and the Sierra Club. But Snyder's continued call to "get government out of the way" of corporations leaves some wondering how that lines up with his professed support for protecting natural resources.
That was a concern cited by the Detroit Free Press last month when it offered a somewhat hesitant endorsement of Snyder over Virg Bernero, saying some of the Republican's ideas still need fleshing out and others are without question "at odds with our own."
"He favors more coal plants for Michigan and would like to apply his quick permitting to them," the Free Press editorial board wrote in its endorsement. "His cozying up to the Farm Bureau, combined with his skepticism about regulation, suggests a Snyder administration might be friendlier than we'd like to big, polluting corporate farms."
The governor-elect stayed on a message of less regulation Tuesday night.
"It is time to redo our regulatory environment," he said in his victory speech. "Currently Lansing has an attitude where 'bad should be controlled.' That's backwards. The average person is a good honest person. The average organization are good honest people, and we need to focus on the exceptions and the problems. And it is time for bureaucracy to go away."
Environmental groups have been quick to criticize Snyder's choice for lieutenant governor, state Rep. Brian Calley, R-Portland.
Clean Water Action faulted Calley for voting to overturn Gov. Jennifer Granholm's directive that said permits for coal-burning power plants should be approved only after the need for more power and for alternative energy were weighed. The group noted that Calley earned only a 17-percent rating from the League of Conservation Voters for the 2009-10 session.
Ann Arbor Democrat Jeff Irwin, a longtime environmentalist who is headed to the state House in January, said he joins the LCV in being cautiously optimistic about Snyder.
"He made some statements during the campaign that were in line with environmental protection, but they were pretty vague, so the question is going to be what exactly does that mean?" said Irwin, a former LCV executive director.
Irwin said a number of environmental goals with an economic bend to them should appeal to Snyder, such as investing in clean energy and technology around advanced batteries and wind turbines. He also thinks Snyder has stated a strong commitment to tourism, which will require protecting Michigan's beaches, state parks and fish and wild life management.
"So I'm hopeful there," he said. "I think we're going to have some success with stuff that can be messaged as economic development."
Irwin said he's concerned about statements Snyder has made that equate "less regulation" with being "business friendly." Irwin favors increased pollution controls for coal plants, which are a source of harmful mercury and sulfur dioxide in the environment.
James D'Amour, an executive committee member of the local Huron Valley Group of the Sierra Club, said he's reserving judgment on Snyder at this point.
"He said some very good things in his speech Tuesday night. It's not stuff you normally hear from the average Republican these days," he said.
D'Amour said he would applaud Snyder if he pushed for better enforcement and decent funding to crack down on combined animal feeding operations — also known as factory farms or CAFOs. D'Amour said CAFOs currently "seem to exempt themselves from environmental regulations" and are causing groundwater pollution.
Asked during a public radio call-in program if he'd ensure that CAFOs don't pollute groundwater, Snyder rhapsodized about family farms and said environmental regulations were sometimes applied too harshly to agriculture.
"If you look at it from a farmer's interest, they're the best stewards of the land. What interest do they have in doing harm to the environment?" he said. "We shouldn't have a default setting to say, 'They're bad people.' We need a default setting, 'These people are actually trying to help.'"
Most of Michigan's roughly 200 CAFOs aren't family farms, and regulating them has been a challenge for state environmental quality experts. They typically house thousands of animals, ranging from pigs to poultry, and a farm with 5,000 cows produces as much waste in a day as a city the size of Lansing.
Some of the biggest operations are run by Vreba-Hoff Dairy Development LLC, an Ohio-based company that helps farmers from the Netherlands set up dairy farms in Ohio, Michigan and Indiana. The company has paid hefty penalties for manure spills and failing to set up new sewage treatment systems at its two farms near Hudson in Lenawee County.
Heaped on top of those concerns, environmental groups note that Snyder will inherit a $1.42 billion budget deficit when he takes office in January. And his plan to eliminate the Michigan Business Tax is estimated to leave the state with an additional hole of $1.5 billion or more.
"He's not said how he will offset these cuts yet. He dodged that question in the debate," Werder said. "These aren't criticisms. These are areas of concern we'll have to watch closely."
The Associated Press contributed to this report. Ryan J. Stanton covers government and politics for AnnArbor.com. Reach him at ryanstanton@annarbor.com or 734-623-2529.