Posted on
Sat, Oct 6, 2012 : 5:56 a.m.
Will winter pack a wallop in Ann Arbor?
By Cindy Heflin
If you're not a big fan of snow, you're in luck. Forecasters are predicting a rather wimpy winter for the Ann Arbor area.
Oh, there's likely to be a snow, but it's probably going to arrive mostly in dribs and drabs rather than in a few big wallops. That's the word from Tom Kines, a meteorologist with AccuWeather.com.
Kines said AccuWeather.com's winter forecast, updated this week, predicts normal amounts of snow and normal temperatures in Ann Arbor this winter. He went so far as to call the forecast boring.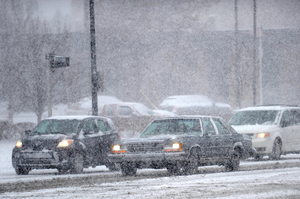 "If you're a snow lover or anybody who likes big snowstorms it's probably not the winter for that," Kines said.
On the other hand, that doesn't mean we're going to get by without using a shovel all winter. In an average winter, snowfall in Ann Arbor usually totals about 52 inches.
This year, most of that snow is expected to arrive via the Alberta clipper, a type of storm that moves down from Canada and generally carries little moisture with it, normally dumping about 1 to 3 inches, Kines said.
"That's not to say that you can't at some point get half a foot of snow," Kines said. "That can certainly happen." It's just unlikely that there will be very many such storms, Kines said.
As for temperature, that's expected to be in the normal range, too, Kines said. In Ann Arbor, the average high for December is 35 and the average low is 23, according to data from the Weather Channel. In January, the averages are 31 and 18. By February the average high is back to 35, while the average low is 27.
Some parts of the country can expect more extreme weather, Kines said. AccuWeather is predicting some major storms for the East Coast and above average snowfall.
Here's hoping this year's forecast is more accurate than last year's, when AccuWeather predicted bitter cold, lots of snow and a late spring for southeast Michigan. After Ann Arbor enjoyed the fifth-warmest winter on record last year, AccuWeather said a long-range forecast can never be completely reliable.
"You can never predict what your accuracy is going to be," meteorologist Jack Boston said at the time. "It's your best estimate of what you think will happen."
Cindy Heflin is associate news director at AnnArbor.com. Contact her at 734-623-2572 or cindyheflin@annarbor.com or follow her on Twitter.