Posted on
Thu, Sep 8, 2011 : 1:29 p.m.
Will you get wet at the Michigan-Notre Dame game Saturday?
By Cindy Heflin
Going to the big Michigan-Notre Dame game in Ann Arbor on Saturday? Might want to bring a raincoat. Though if you're lucky, you won't need it by kickoff time (8 p.m., ESPN).
"Right now we don't have any rain in the forecast after 8 p.m.," said Rachel Kulik, a meteorologist with the National Weather Service in White Lake Township.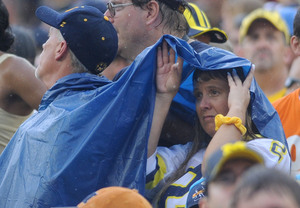 Angela J. Cesere | AnnArbor.com
The forecast calls for a 40 percent chance of rain earlier in the day Saturday, but the wet weather is expected to move off to the east in the evening, she said. The day will be cloudy with an expected high of 72.
The soggy weather that's been plaguing the Ann Arbor area was brought to us by the remnants Tropical Storm Lee, Kulik said. The storm hit the U.S. Gulf Coast, where it spawned tornadoes and caused at least 2 deaths before moving northeast, where it was wreaking havoc. Lee brought torrential rains and flooding to the East Coast and closed roads from Maryland to New England. Two people died in Pennsylvania.
"It's kind of filtering some of that moisture into our area," Kulik said.
Ann Arbor had 1.09 inches of rain in the 24-hour period ending at 7 a.m. today, said University of Michigan weather observer Dennis Kahlbaum. The area also received nearly an inch of rain in the 24 hours ending at 7 a.m. Sunday.
Though that might be enough moisture to make us feel waterlogged, it's probably not enough to cause any serious flooding issues, Kahlbaum said.
At least a couple of sunny days lie ahead. Friday will also be cloudy with a 40 percent chance of rain and a high in the low 70s. But Sunday and Monday promise to be partly to mostly sunny with highs in the upper 70s to 80 degrees. The possibility of showers is back in the forecast again for Tuesday.
How about the rest of the month? Not even the National Weather Service knows for sure. "We only go 7 days out," Kulik said.
For updated forecasts and conditions throughout the day, check AnnArbor.com's weather page.