Willow Run school board reassigns Superintendent Doris Hope-Jackson
Posted on Mon, Dec 7, 2009 : 5:48 a.m.
Doris Hope-Jackson is no longer Willow Run's schools superintendent.
Instead, Hope-Jackson - a controversial figure who was absent for six weeks - was reassigned to the position of director of information and assessment.
The school board unanimously approved that action Thursday while indefinitely extending the contract of acting Superintendent Laura Lisiscki.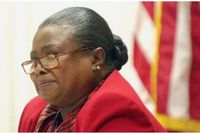 The move came after Hope-Jackson failed to communicate with the board about her status during a six-week absence from work due to injuries from a car accident.
Board Secretary Mark Wilde said the board sent several letters to Hope-Jackson requesting she provide documentation of her injuries from medical professionals, as required by the Family Medical Leave Act, but never received a reply.
"Her indirect defiance clearly demonstrates that she does not have a good working relationship with the board of education," board President Sheri Washington said. "So many people feel like she abandoned Willow Run in its weakened state, and you can't do that."
Hope-Jackson, who returned to work Nov. 30, told the board at Thursday's meeting she neglected to reply to the requests because she thought she would recover quicker than she did.
Washington said she made several attempts to contact Hope-Jackson throughout the absence via e-mail and telephone, but never got a reply or call back. She added the only communication was through Rachel Plumley, Hope-Jackson's administrative assistant.
"She chose to communicate through Rachel Plumley, and I made it clear that she doesn't work for the administrative assistant, she works for the board of education," Washington said.
Hope-Jackson came to the meeting with her attorney and presented the board with a letter from a physician stating she was injured and unable to work for the last six weeks.
"If any other employee in the district didn't show up for even three straight days without calling, they would be terminated on the spot," Wilde said.
The board began the meeting with an assessment of Hope-Jackson's progress on district goals, though Washington underscored it wasn't an official evaluation. Hope-Jackson received poor marks in all areas.
"We've seen a steady decline in terms of her confidence rating from us, and that's serious," Washington said.
Hope-Jackson's counsel, Diane Carr, admitted she made a mistake in not communicating with the board directly during her absence. She asked board members to move past it, but Washington called her failure unacceptable.
"We're not going to budge on it," Washington said. "This is a person who has been gone six weeks without so much as responding to a phone call from me."
Washington said there were no objections to the move from the standing room only audience, largely comprised of Willow Run staff. And the extension of Lisiscki's contract was met with applause.
Hope-Jackson will be responsible for collecting and analyzing data on student achievement, reporting it as necessary to state and federal government agencies and using the data to help the district make decisions in her new role.
Trustee Anglesia Brown said it is an important position given the data-driven decisions made in the district and government.
"She has quite a bit of curriculum and assessment experience in her background, so this job really fits her," Brown said.
Washington added that she believes it's the best move for everyone involved.
"I felt like maybe Dr. Jackson bit off more than she could chew," she said. "She couldn't wear these 10 hats she needed to wear while moving us forward. We have to learn how to thrive again, and this position is very serious. I do believe she will be a big help in terms of supporting staff and students."
Hope-Jackson has two years left on her contract and will receive her superintendent's salary. Lisiscki, who was principal at Kaiser Elementary previously, will continue to receive her principal's salary.
If the board fired Hope-Jackson, the district would have to pay the remaining two years on her contract. The board was able to change the contract because of a clause providing it with the right to reassign duties as it sees fit.
Washington said Hope-Jackson didn't react favorably to the change, but Washington is hopeful it will improve the district.
"We feel like we can get our bang for our buck with her in this position," Washington said. "This is not a cream puff job. This is real work."
Hope-Jackson called in sick for her first day of work in the new role Friday, but Wilde is hopeful that she will assume her new role today.
"The position we put her into is a position that we need," he said. "We need this information from her, so from that standpoint, it wouldn't be ideal for us if she up and quit."
Washington said she hopes Hope-Jackson doesn't view the change as a demotion.
"I look at it as a serious time out for Doris Hope-Jackson," she said. "This is not about her. This about my students, my staff at Willow Run and how we begin to mend fences."