Posted on
Wed, Nov 9, 2011 : 12:02 p.m.
Wind advisory: Power outages, downed trees possible in Ann Arbor area
By Cindy Heflin
A windy night could bring power outages and tree damage to the Ann Arbor area, the National Weather Service warns. A cold front will also bring a sharp drop in temperatures.
The weather service has issued a wind advisory from 4 to 11 p.m. and warns that winds could gust to 40 or 45 mph.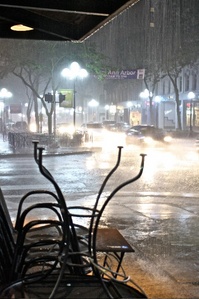 Photo courtesy of Angela Todd
The area will experience strong sustained south winds from 25 to 30 mph. Around 7 p.m., winds will shift sharply to the west as a cold front moves through. After a daytime high in the 60s, temperatures will drop to about 36 tonight, the Weather Service said.
The windy conditions could make driving high-profile vehicles such as vans and SUVs difficult, the weather service warned.
Rain today is expected to taper off this afternoon. There's a 20 percent chance of showers through 1 a.m. Thursday. Scattered rain and snow showers are possible Thursday. The day will be mostly cloudy with a high of 44.
For updated conditions and forecasts throughout the day, check AnnArbor.com's weather page.