Posted on
Tue, Aug 23, 2011 : 7:22 a.m.
Deceased wing walker's act included failed attempts, announcer says
By Cindy Heflin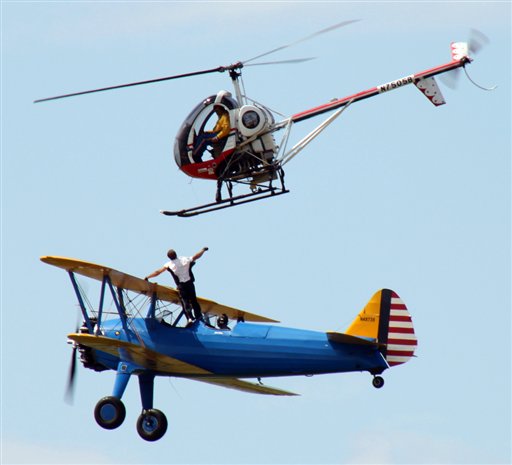 AP photo
Todd Green, a wing walker from Ann Arbor, made multiple attempts to complete his stunt before falling to his death Sunday as part of a show designed to heighten the drama for spectators, an announcer told the Detroit Free Press.
Talk about danger posed by the wind was also part of the act, the announcer said.

Meanwhile, no cause for the accident had been determined as of Monday night, the newspaper said, but theories ranged from a problem caused by the wind to something to do with a large bird that was near the biplane Green was standing on as he tried to grab a helicopter skid.
Green, 48, the son of famous wing walker Eddie "The Grip" Green, fell about 200 feet to his death.
He had successfully performed the stunt in which he moved from the fuselage of the biplane to the helicopter several times before.
The FAA is investigating the accident.