Posted on
Mon, Jan 21, 2013 : 5 p.m.
Wind chill advisory in effect for Washtenaw County until 1 p.m. Tuesday
By Katrease Stafford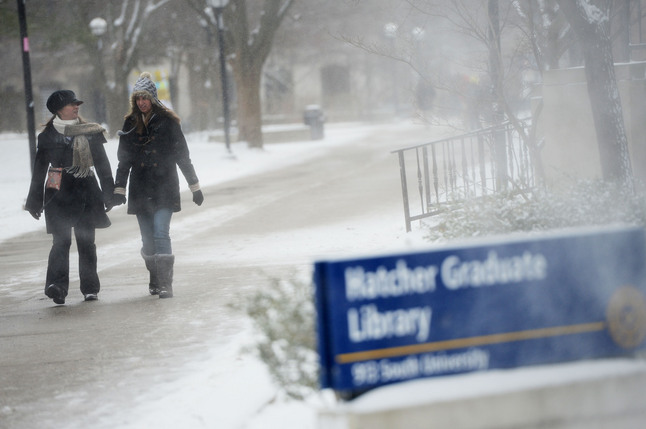 Melanie Maxwell I AnnArbor.com
The
National Weather Service
has issued a wind chill advisory for Washtenaw County due to harsh, cold winds that can cause frostbite and hypothermia, according to University of Michigan weather observer
Dennis Kahlbaum
.
The wind chill is in effect from 7 p.m. this evening to 1 p.m. Tuesday. A wind chill advisory is usually put into place when very cold air and strong winds combine to generate low wind chills, Kahlbaum said.
Temperatures are expected to drop off quickly after sunset tonight and will fall down into the lower single digits during the late evening hours. Monday night's low will be around three degrees, with a wind chill as low as 13 below zero. West to northwest winds of 10 to 20 mph are expected to continue throughout the night.
Kahlbaum said the extremely cold weather and prolonged skin exposure may lead to frost bite and hypothermia. Those who must be outside should wear hats, coats, gloves and try to cover their faces.
"Definitely don't go out with any exposed skin," Kahlbaum said. "Try to cover up in layers to reduce the amount of exposure."
Kahlbaum said Tuesday afternoon's temperature is supposed to be a high of 12 degrees and afternoon winds will be in the 15 to 25 miles per hour range.
Throughout the remainder of the week, temperatures will remain quite cold. This winter, according to Kahlbaum, has seen below normal amounts of snow and above normal temperatures until now.
"Last week we had temperatures approaching 60 degrees," he said. "In general, after a warm spell, it's followed by a really cold spell."
Kahlbaum also is cautioning drivers to be cautious due to the declining temperatures.
"With the temperatures getting could, there could definitely be icing with the snow showers that are going on," he said. "Use caution while traveling as well."
According to the National Weather Service, arctic air is spreading eastward behind a cold front moving towards the Atlantic Coast. Below average temperatures will occur from the north and central Great Plains to the Mid-Atlantic and northeastern U.S. over the next couple of days.
For updated forecasts and weather conditions anytime, visit AnnArbor.com's weather page.
Katrease Stafford covers Ypsilanti for AnnArbor.com.Reach her at katreasestafford@annarbor.com or 734-623-2548 and follow her on twitter.