Posted on
Mon, Mar 4, 2013 : 3:13 p.m.
Winter storm expected to bring more snow to Ann Arbor
By Cindy Heflin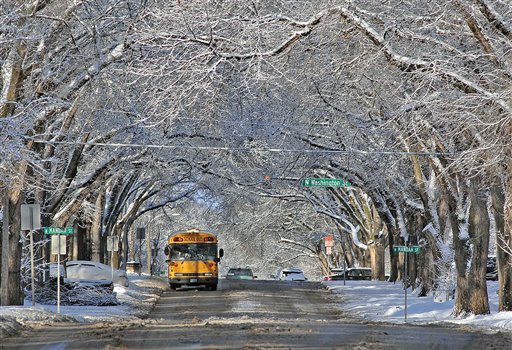 AP photo
Another winter storm is barreling toward the Great Lakes, but the worst of it will miss the Ann Arbor area, forecasters say.
"We're looking at a storm total of an inch to an inch and a half," said Rachel Kulik, a meteorologist with the National Weather Service in White Lake Township, which does forecasting for all of southeast Michigan.
Most of that will fall between 6 p.m. Tuesday and 2 a.m. Wednesday, Kulik said. The snow will start earlier in the afternoon, but only a couple of tenths are expected before the evening rush hour.
Folks to our west and south will get more snow. A winter storm watch is out for parts of southwest Michigan, northern Indiana and northern Ohio. Some of those, especially in Indiana and Ohio, could get up to 8 inches of snow, the National Weather Service warns. Freezing rain also is possible in some areas.
After the storm passes, the Ann Arbor area is in for a warming trend. By Wednesday afternoon, temperatures will be in the upper 30s. Thursday and Friday will bring sunshine with temperatures climbing again into upper 30s.
The serious warming begins Saturday, when the high is expected to reach 44 degrees under partly sunny skies. A chance of rain and snow showers is in the forecast for Sunday with a high of 46.
For updated forecasts and conditions any time, check AnnArbor.com's weather page.