Posted on
Mon, Apr 18, 2011 : 7:40 a.m.
Winter weather advisory extended for Ann Arbor area; 2 to 4 inches of snow expected
By Cindy Heflin
The bad news: The winter weather advisory in effect for the Ann Arbor area has been extended until 1 p.m., and the National Weather Service is still predicting 2 to 4 inches of snow from the Ann Arbor area.
The good news: It won't stay around long, and probably not much of it will accumulate on the roads.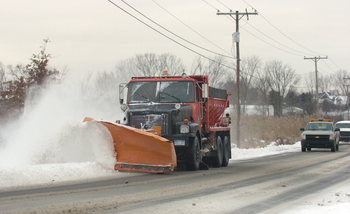 The bulk of the snow is expected to fall by 11 a.m. in the Ann Arbor area, said Steve Considine, a meteorologist with the National Weather Service in White Lake Township. An upper-level disturbance is creating this somewhat unusual spring snow, Considine said.
The snow had caused several crashes and spinouts on Washtenaw County freeways of about 8:45 a.m., a dispatcher with the Washtenaw County Sheriff's Office said.
Washtenaw County Road Comission crews are ready to deal with whatever the storm dishes up, said Jim Harmon, director of operations.
"We called everybody in shortly after 5 a.m. when the snow started falling. A number of trucks are already out on the state trunk lines paying particular attention to bridge decks and overpasses," Harmon said just before 7 a.m.
The rest of the Road Commission's fleet of 46 trucks was heading out to monitor conditions and apply salt where necessary, he said. Pavement temperatures above freezing had prevented icing and snow accumulation up to that point. "We don't expect any major accumulations," Harmon said.
Considine said snow could accumulate on roads during heavy bursts of snow, which he said are likely to occur during the storm. The winter weather advisory for southeast Michigan first issued Sunday had been expected to expire at noon today, but was extended until 1 p.m.
Whatever snow does accumulate is unlikely to stay around long. The National Weather Service predicts a high temperature of 40 degrees today. Tonight rain is likely, possibly mixed with freezing rain as the low drops to 31 degrees, but little snow or ice accumulation is expected.