Posted on
Thu, Nov 5, 2009 : 2:05 p.m.
Impact of countywide school millage failure: WISD leader says cuts to school districts are coming
By David Jesse
Although the fallout of a failed schools enhancement millage has Washtenaw County superintendents considering all options, several barriers make school consolidation difficult and unappealing, says Washtenaw Intermediate School District Superintendent Bill Miller.
A lot of those obstacles are tied to money, he added.
Under state law, if two school districts consolidate, the new district gets a blended per-pupil funding amount from the state.
Each school district in the state gets the bulk of its revenue from the state in the form of a per-pupil foundation grant. Those amounts vary per district.
That means a district like Ann Arbor that gets a high per-pupil foundation grant could lose millions of dollars in revenue if it consolidated with another school district.
At the start of the year, per student funding for Ann Arbor was about $9,600 per student, while Ypsilanti received about $8,000, and the majority of other local districts got about $7,500. Those numbers are changing due to recent state cuts.
Another barrier? Voters have to agree to consolidation.
The process also includes things like debt and union contracts.
However, as the state's financial situation for schools worsens, more and more districts - including some in Washtenaw County - are likely to talk about consolidation, Miller said.
District officials and teachers in Washtenaw County were hoping voters would approve a 2-mill countywide enhancement millage on Tuesday to give them $30 million a year countywide. But voters turned down that request by a wide margin.
Residents should expect to see reductions this year in their schools, Miller said, as administrators work to balance their budgets after receiving cuts totaling hundreds of dollars in per-pupil foundation grants.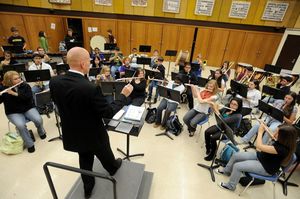 Angela Cesere | AnnArbor.com
Measures could come in the form of staff layoffs, cuts to services for students and requests for concessions from unions, Miller said. Busing and athletics also are being discussed, he said.
"I'm most worried about the arts, music, full-day kindergarten, foreign language, items like that," Miler said. "I think we're going to lose things I think are essential. I've already seen some erosion in the creative curriculum."
Miller said he also expects see a big push for structural reforms in the area of health care costs and retirement costs, especially at the state level.
And Miller said a major push is under way to change the way the state funds schools.
Still, Miller said, some districts could look quite different by next year.
"Everything is on the table," he said he's hearing from the 10 local school districts. "It's going to be individual districts' decisions on what to cut, but they are all going to have to make cuts."
• Related: Complete countywide schools enhancement millage covered.
David Jesse covers K-12 education for AnnArbor.com. He can be reached at davidjesse@annarbor.com or at 734-623-2534.