Posted on
Mon, Sep 20, 2010 : 6:01 a.m.
WISD's WAY program puts at-risk students on the path toward graduation
By Kyle Feldscher
Ypsilanti High School just wasn't working for Davon Stewart.
After his junior year, he was short "a lot" of credits for graduation. He said the atmosphere at the school was distracting for him, and he needed to do something to get through his high school career.
"I'm a senior this year, and I just want to get done with it," he said. "I didn't really like (Ypsilanti High School) that much, and I couldn't get my work done."
Stewart found a new program that could help him get his diploma by June.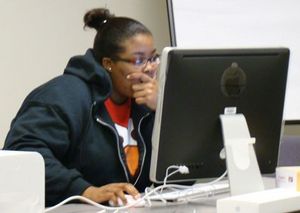 Photo courtesy of the WISD
He's one of the first members of the Widening Advancement for Youth (WAY) program, in its first year at the Washtenaw Intermediate School District. The program is a project-based learning system for students who have dropped out of school, are at risk of dropping out or aren't on track to graduate.
Sarena Shivers, director of school services for the WISD, said options for the projects "run the gamut" and offer expedited credit earning. One project can earn a student — known in the program as "researchers" — credit in math, English, social studies and many other subjects.
"If a student is interested in being a photographer, they can do a photography project or cosmetology projects to create certain hair dyes for chemistry," she said. "It's important they're researching things they're interested in and that they're educationally sound projects."
Each student in the program is provided with an iMac computer and a digital camera for the projects. The program has about 240 spots and is close to being filled, with Sept. 27 as the last day of enrollment.
Students are expected to work on their projects and communicate daily with their mentors, certified instructors who monitor and grade the students. They meet at Stone School in Ann Arbor twice a week to check in — otherwise, the rest of the work for the program is performed online.
Jennifer Hart, one of the four team leaders for the WISD's program, has been traveling around the county doing home visits since it began in August. She said the program won't accept students until they've been visited at their homes, and it's been discussed with parents.
"Very often, we get tears from parents who are thrilled to have some hope to have something that might work," Hart said.
Photo courtesy of the WISD
The program recruited students by getting names from local school districts of students who had dropped out or had expressed interest in dropping out, Hart said. However, as time has passed, more and more calls are starting to come into the WISD inquiring about the program.
"It's very interesting, it's a little like building a plane in flight," Hart said.
WAY is based off a program in the United Kingdom named Not School. Hart and Shivers both said the program in the UK had been successful, and the model is promising.
The WISD has been working closely with the statewide WAY program, which works with about eight ISDs encompassing about 60 school districts from around the state.
Glen Taylor, executive director of the WAY program, said the average age for students entering it is about 16, and candidates are "traditionally well behind in the education process." He said the biggest change for students is having control of their own experience.
"Most of the change we see is researchers going from seekers information to forming their own process and becoming leaders of their own environment," Taylor said.
Shivers said with about 600 students dropping out of Washtenaw County schools every year, there is a definite need for the program.
"There's a myriad of options for education opportunity," Shivers said. "Traditional schools just don't work for some students, we know that. Whether the number is one or 600, we don't want to lose any students."
For more information about the WAY program, call Shivers at 734-994-8100, ext. 1257 or e-mail her at sshivers@wash.k12.mi.us.
Kyle Feldscher covers K-12 education for AnnArbor.com. He can be reached at kylefeldscher@annarbor.com.