Posted on
Thu, Mar 25, 2010 : 5:53 p.m.
With Earth Day approaching, University of Michigan experts offer tips to help environment
By Tina Reed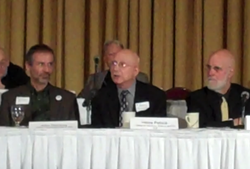 Tina Reed | AnnArbor.com
What do transportation, food and the Great Lakes have to do with one another?
Plenty if you're trying to do something about fighting climate change, experts said during a University of Michigan Teach-In held Thursday in honor of the approaching 40th annual Earth Day.
Earth Day is April 22.
The event featured panels discussing the importance of creating ways to reduce how much people rely on carbon-powered vehicles, alternative energy potential and pitfalls, the value of purchasing healthy and locally grown foods and protecting the Great Lakes.
The consensus appeared to boil down to one question: How do you change people's social behaviors to help fight climate change and increase environmental sustainability?
Several panel members featured during the conference expressed frustration that the U.S. and institutions, including U-M, seemed to lack a sense of urgency about climate change. That's particularly the case when other issues like creating jobs in a weakened economy are pulling attention away from energy and environmental issues.
U-M professor emeritus of geophysics Henry Pollack said the incentive for environmental change does hit the pocketbook, particularly in Michigan.
Pollack was a member of the Intergovernmental Panel on Climate Change, which shared the 2007 Nobel Peace Prize with former vice president Al Gore.
"If I said there was one industry in Michigan that exports $18 billion of product a year, what would you identify that as?" Pollack asked the audience. "It's money. That's what we pay for our energy in Michigan, both in terms of petroleum that we import for our vehicles, in terms of coal which generates our electricity."
The incentive of retaining that $18 billion a year is the jobs that could be created and the funding for university and businesses that could be spent inside the state, he said.
"Yet we seldom hear any attention called to the economics of what this means for the state to be so reliant on the carbon-based energy," Pollack said.
Here's a look at what some panelists from an environmental sustainability discussion during the Teach-in event had to say about what should be going on at the individual level, and more broadly, to help the environment.