Posted on
Mon, Dec 14, 2009 : 2:18 p.m.
University of Michigan prepares budget request for state, warns of 'aggressive' changes
By Juliana Keeping
Without naming a dollar amount, the University of Michigan is asking the state for help with next year's budget.
In the annual operating budget request to the state for the Ann Arbor campus, U-M President Mary Sue Coleman reminded the state of U-M's contributions to the economy. She noted the university is "an essential component in the stabilization and revitalization of the Michigan economy."Â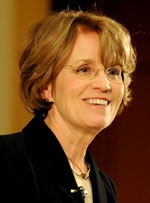 The letter highlighted a number of recent cost containment measures and spoke of efforts on the university's part to help students pay for tuition.
The 7-page letter from the president, with an introduction from Provost Teresa Sullivan, notes the state didn't ask for a budget request for fiscal year 2011 this year in light of the economic environment. But "the university has decided to go on the record" anyway, it says.
The president's letter was less detailed than the 34-page request sent last year, but its tone was slightly more ominous. It stopped short of warning of any layoffs, but noted that "aggressive policy and organizational changes will be required over the next three years."
The state gave U-M $317 million for this school year, fiscal year 2010. That's $47 million less in nominal dollars than U-M received in 2002, the letter states.
The state budget request will come before the University of Michigan Board of Regents for approval Thursday.
Also up for approval are budget requests for U-M's Flint and Dearborn campuses.
Juliana Keeping covers higher education for AnnArbor.com. Reach her at julianakeeping@annarbor.com or 734-623-2528. Follow Juliana Keeping on Twitter