Posted on
Sat, Sep 10, 2011 : 12:40 p.m.
Thousands of U-M fans rally at ESPN 'GameDay' event before 'historic' Notre Dame night game
By Kellie Woodhouse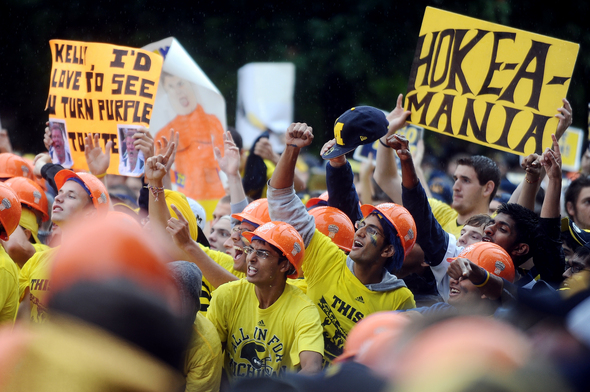 Melanie Maxwell | AnnArbor.com
For
University of Michigan
alumna Hedva Levy, the rain this morning was no coincidence.
"We've had three years of drought," Levy said at the "ESPN College GameDay" event held this morning on U-M's Central Campus. (See photo gallery.)
But Levy, who came to Ann Arbor from St. Louis for the game, wasn't talking about the rain.
She was talking about the three difficult years the Wolverines had been through and how things seem to be turning around for the hopeful team as they face Notre Dame tonight for Michigan Stadium's first-ever night game.
"It's been harder to cheer for them, so we look forward to big things," Levy said.
With ESPN hyping tonight's game, U-M fans are certain those "big things" are on the horizon.
"After the past three years when football has had a lot of trouble, it's like a fresh start, especially with this night game" said Emily Bonchi, a U-M senior who helped staff the "GameDay" event.
Brimingham resident Craig Schmatz was among the hopeful.
"I saw them last week and they look nice," said the U-M alumnus. "They've definitely improved a lot."
"GameDay" event coordinator Cameron Davis said that U-M fans were definitely some of the most passionate she'd seen.
"This is the biggest turnout so far this year," Davis said, adding that one ESPN staffer had informally guessed "GameDay" attendance at 10,000. "And these are definitely the rowdiest fans we've had so far."
Given the forecast for rain, the high attendance was surprising, Davis said.
"GameDay" staffers started setting up their televised event on Thursday on Ingalls Mall, but Davis said it takes just two hours to tear everything down.
For fans, ESPN coming to town only increases the excitement for the landmark night game.
"It gives you a lot of perspective," said U-M alum Angela Harris, who lives in the Ann Arbor area. "Even when you see it on TV, I don't think you can appreciate what it's really like."
U-M junior Ryan Kitson flew into town from his internship in Boston to attend the game.
"I always watch ESPN "GameDay" on Saturdays, so it's really cool to see them live," he said.
""It's definitely a historic night," added Kitson, who bought his Notre Dame ticket on Facebook for more than $200. "It's a huge moment for the community, there's never been a night game like this."
Stephen Cprek, a U-M junior who plays the alto saxophone for the U-M marching band, agreed.
"We're super pumped for the night game," he said during a break performing at "GameDay." "We're making history here."
As for a win, Kitson said he's optimistic.
"Anything's possible," he said. "Especially at home. They've got a huge advantage."
LeighAnn Costly and her family flew in from Atlanta to watch the Wolverines take on Notre Dame.
"I like how loud it is, it's crazy," Costly's 11-year-old son Ryan said. "No matter how much anyone is winning or losing by, it's always intense at the end."
Notre Dame fan John Balenaw, who travelled from South Bend, Ind., said that being in such a large crowd of blue and yellow was "crazy."
""It's a little overwhelming… to walk in here with these colors on and see everyone else," Balenaw said. "I know I'm going to be outnumbered tonight, but I don't care."
Kellie Woodhouse covers higher education for AnnArbor.com. Reach her at kelliewoodhouse@annarbor.com or 734-623-4602.