Posted on
Wed, Jun 26, 2013 : 12:53 p.m.
Husband helps wife deliver baby along U.S. 23 in Ann Arbor
By Chelsea Hoedl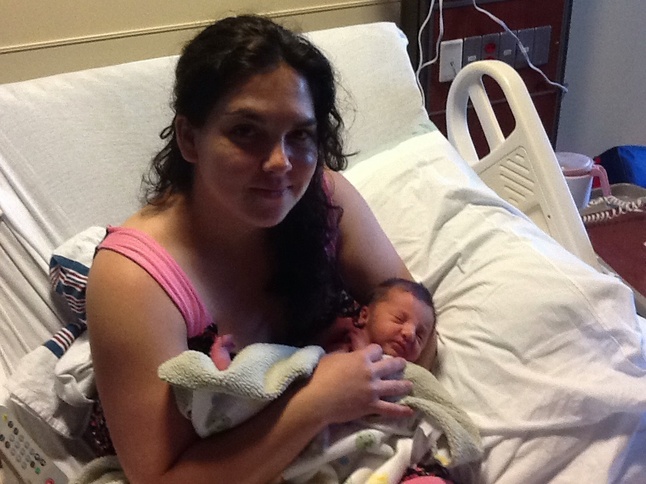 Howell resident Nicole Culwell gave birth in the morning on Monday to Susannah, a healthy baby girl, but it wasn't your typical delivery.
Nicole's husband, Matthew Culwell, had to pull over onto the shoulder of southbound U.S. 23 in Ann Arbor, 10 minutes away from Saint Joseph Mercy Ann Arbor Hospital, after realizing they didn't have time to reach the hospital.
"It literally went from contractions every four minutes to being so close to the hospital and the baby's head was crowning," Nicole said. "I just kept thinking 'no this can't happen.'"
Nicole said she went into labor around 5 a.m. Monday, but she said she was in denial about her water breaking and the contractions she was experiencing because her due date wasn't until July 14.
By 9:30 a.m., Nicole was was experiencing hard labor, prompting the couple to begin the 40-minute drive to the hospital.
As they neared their destination, Nicole felt the baby crowning and called 911. Dispatch told Nicole to have her husband to continue to drive, but shortly after the call she felt the urge to push and Matthew pulled over.
Matthew called 911 once again and on the shoulder of U.S. 23 at mile-marker 42, he helped his wife deliver their daughter while dispatch talked him through it.
"He said it was pretty horrifying, but he was great and stayed calm about it," Nicole said. "I don't even really remember her being born. I just remember holding her after and patting her back to make sure she was breathing."
Matthew said it was less than five minutes after pulling over that Susannah was in his wife's arms, healthy and crying.
"I was shocked that it happened so quickly and then there was this huge relief because she started crying immediately," Matthew said.
Help showed up shortly after the delivery, and a firefighter was able to clamp and cut the umbilical cord before Nicole and the newborn were transported to St. Joe's with Matthew following in his car.
"It's not often that you get to see your name as the person who made the delivery on your daughter's birth certificate," Matthew said. "It's a pretty cool story to tell even though people don't believe you right away."
Nicole and Susannah are both healthy and will be discharged from the hospital on Wednesday.
Chelsea Hoedl is an intern reporter for AnnArbor.com. She can be reached at choedl@mlive.com.