Posted on
Thu, Apr 4, 2013 : 2:55 p.m.
Woman hit by bicyclist in Gallup Park files lawsuit, seeks changes in city parks
By Kyle Feldscher
A lawsuit filed in the Washtenaw County Trial Court Thursday morning seeks to spark changes in the way bicyclists and pedestrians interact in Ann Arbor parks after the plaintiff was seriously injured when a bicyclist struck her last year.
Ypsilanti resident Joanne Hahn was walking with her husband, Eugene, and daughter, Kristine, in Gallup Park on the morning of July 28, enjoying a sunny summer day. That walk was interrupted when a bicyclist who came up behind the trio tried to pass between Joanne and Kristine Hahn on the paved path, the lawsuit alleges.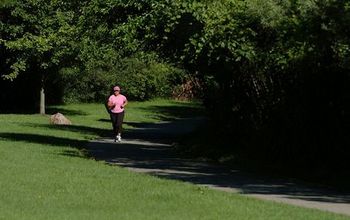 The lawsuit alleges the bicyclist collided with Joanne Hahn at high speed, without braking, sending her headfirst through the air. In addition to damages, Joanne Hahn hopes the lawsuit will save others from her fate.
"I wish no more people get hurt like me, so I want anything possible to change the rules so there is no more people who get hurt," she said.
The collision left Joanna Hahn with severe brain damage, a herniated cervical disc and painful nerve damage from her head through her legs, according to the lawsuit. The family, through their attorney Richard Bernstein, filed the lawsuit in the Washtenaw County Trial Court Thursday morning and is seeking a jury trial. They're asking for at least $25,000, plus court costs, interest and attorney fees.
The lawsuit names Mary Ann Hinesly, an Ann Arbor resident, as the bicyclist who hit Joanne Hahn. Attempts to contact Hinesly by AnnArbor.com Thursday afternoon were not immediately successful.
The lawsuit accuses Hinesly of negligence, negligent infliction of emotional distress and causing loss of society, companionship and consortium.
Eugene Hahn said the family had no time to react before his wife was struck.
"I tried to grab my wife, but it was just too late," Eugene Hahn said Thursday. "She was just struck so hard and tossed forward so hard. She was tossed 3 or 4 feet, and landed on the back of her head."
Joanne Hahn worked for the University of Michigan as a food service worker for 22 years, but she's no longer able to work. She said she was very active before the crash, but she now suffers from chronic pain that keeps her up at night, and she has trouble communicating.
While the lawsuit only names Hinesly as a defendant, the larger aim of the family is to instigate change in Ann Arbor. Bernstein said one of the main reasons the collision happened is because there are not segregated bike lanes and pedestrian lanes in Gallup Park.
"There is no excuse for having a single path for bicyclists and pedestrians," Bernstein said. "There needs to be segregation. You cannot have bicyclists and pedestrians sharing the same path. This is basic stuff that needs to be corrected and needs to be corrected immediately."
The lawsuit alleges no signs in parks notify bicyclists of speed limits and proper safety and, even if there was signage, there is no enforcement of these regulations in parks.
Bernstein is fighting a similar battle in New York City. He was hit by a bicyclist in Central Park in August and left with severe injuries, causing him to be hospitalized for months. A former Ironman competitor, Bernstein said he's very much a fan of bicycling, but people need to be more aware of how to use bikes safely.
He said that's where the city should step in.
"The reason this is so important, and the reason we're so passionate, is people have a right to go to the park … and the challenge here is, as in Central Park, the cars and vehicles are more responsive to lights and traffic laws," he said, "and bikes have a tendency to not do that because law enforcement has not made this a priority."
He added, "A high-speed bike going at a very, very fast rate of speed can do just as much damage as a car."
Bernstein said he would be calling on Mayor John Hieftje and the Ann Arbor City Council to formulate more regulations in city parks to make them safer for both bicyclists and pedestrians.
When reached by AnnArbor.com on Thursday, Hieftje said he was aware of the lawsuit but directed comments on it to City Attorney Stephen Postema. A noted bicyclist himself, Hieftje said there is a strong interest in the safety of city parks.
"I'm certainly interested in making sure our parks are the safest they can be," he said.
AnnArbor.com left messages with other city officials seeking comment about the possibility of creating separate bike and pedestrian lanes or increasing signage regarding speed limits and bike safety Thursday afternoon.
There was no defense attorney for Hinesly named in the lawsuit filed Thursday.
Kyle Feldscher covers cops and courts for AnnArbor.com. He can be reached at kylefeldscher@annarbor.com or you can follow him on Twitter.