Posted on
Tue, Aug 13, 2013 : 3:20 p.m.
U-M student killed crossing Plymouth Road remembered as hardworking, determined
By Kyle Feldscher
Friends of the 20-year-old University of Michigan student killed by a vehicle while crossing Plymouth Road last week are remembering her as a source of positive energy who was fighting to get where she wanted to go in life.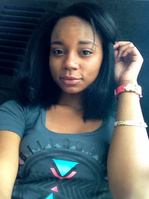 Facebook photo
Sharita Williams, a Clinton Township native, was about to enter her junior year at U-M when she died early Friday morning from injuries she suffered in a Wednesday afternoon crash. She was in a pedestrian crosswalk on Plymouth between Nixon Road and Traverwood Boulevard in Ann Arbor when she was hit.
Stephanie Johnson, a friend since Williams joined the cheerleading team in high school, said Tuesday Williams was working two jobs to help put herself through U-M. Johnson said Williams was a good friend who always made time for others, and was meant to be the social worker she was studying to become.
"If we were down, she would always talk to us — always with a smiling face, she was literally always smiling," Johnson said. "She would talk about our feelings and problems, and she had a lot of problems, but she never talked about her problems. She always talked about you and helping you out."
Williams was crossing Plymouth Road from south to north at a pedestrian crosswalk just before 3 p.m. Wednesday when she was struck by a green Chevrolet Cavalier. Witnesses told AnnArbor.com the Rectangular Rapid Flashing Beacon lights at the crosswalk, which are activated by pedestrians, were flashing for at least 30 seconds before Williams was hit.
Police told AnnArbor.com Tuesday the driver of the Cavalier has been identified, but has not been arrested or cited in the crash to this point. Ann Arbor police Lt. Renee Bush said the investigation was still open as of Tuesday morning.
Williams met the same tragic end as her brother, Kenny, who died nearly two years ago after being struck by a car, Johnson said. The two siblings were very close and Kenny was like a father to Williams after their mother passed away.
Williams was taken to University of Michigan Hospital following the crash and was in critical condition until she died Friday morning. Even after hearing Williams was severely injured by the crash, Johnson knew her friend — a runner and determined student — wouldn't go without a fight.
"She was a fighter, I knew when she was in the hospital she was fighting," Johnson said. "She was a really, really strong person herself. She fought for everything she had, it was just God's time to bring her with her brother and her mom."
Johnson said many of Williams' friends are coming together after her death and working to help out her family, including her aunt and uncle who took her and Kenny in after their mother passed away. A fundraiser has been set up to help with expenses for Williams' funeral and friends are pitching in any way they can.
It's the way Williams reacted after her brother's death, Johnson said. Even though it was a tragic loss for her, Williams still lent a helping hand to many of her brother's friends and organized events to remember him, such as a candlelight vigil.
"She stepped up as a sister and she was the one to be there for everybody, even though it was one of her toughest times," Johnson said. "She was there for everyone else."
Visitation for Williams is scheduled from 1 to 8 p.m. Friday at Cantrell Funeral Home, 10400 Mack Ave. in Detroit. Her funeral is scheduled for 11 a.m. Saturday at Love Life Family Christian Center, 17363 Toepfer Drive in Eastpointe, preceded by a family hour at 10 a.m.
To donate to the fundraiser to help Williams' family, click here.
Kyle Feldscher covers cops and courts for AnnArbor.com. He can be reached at kylefeldscher@annarbor.com or you can follow him on Twitter.