Woman paralyzed in hayride accident at Jenny's Market files lawsuit
Posted on Thu, Jan 5, 2012 : 5:51 a.m.
A woman who was paralyzed after being thrown from a hayride she was leading last fall is alleging in a lawsuit that her employer, Jenny's Dexter Market in Webster Township, provided her with faulty equipment and didn't fix it when she complained about it.
Mary Armbruster, 23, of Ann Arbor is suing Jenny's Dexter Market, as well as Jennifer Lambers, who owns the business on Island Lake Road, and Lambers' father, Burton Hoey, who runs it.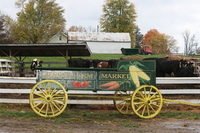 In September, Armbruster was attempting to get control of two horses on the property when she was thrown from the wagon and run over, suffering a fractured spine. She was left paralyzed from the waist down and spent more than two months in the hospital.
The lawsuit, filed Tuesday in Washtenaw County Circuit Court, seeks an unspecified amount of money. It says only that the amount "substantially exceeds" $25,000.
Lambers declined to comment on the lawsuit Wednesday, and Hoey could not be reached for comment.
According to the lawsuit, Armbruster asked to work at the market on weekends to give hayrides to customers. The market provided her reins for a two-horse team that were "mismatched and uneven," causing her to "have to hold one rein in each hand to adequately steer the two horses," the lawsuit says. In addition, the seat she used wasn't bolted to the wagon, the lawsuit claims. Armbruster complained about the reins and seat, the lawsuit says, but the equipment wasn't fixed.
On Sept. 24, the lawsuits claims Armbruster was driving the wagon and pulled back on the reins while seated, trying to prevent the horses from running down a hill. The seat came loose, the lawsuit says, leaving Armbruster standing on the wagon. Then, the horses bolted, the lawsuit claims, and Armbruster attempted to slow them down, so they would turn and not run into the road. While holding a rein in each hand, the lawsuit claims she "was jerked off the front of the wagon, and was run over."
According to the lawsuit, the business set a "course for the hayride which required the wagon to be driven down a steep, dangerously unsafe hill with uneven ground."
Armbruster is facing hundreds of thousands of dollars in current and future medical bills and continues to suffer physical and mental pain, the lawsuit says.
A day after the accident, the township cited the market for nine zoning violations. Those violations were not related to the accident. Less than two weeks later, the state Department of Agriculture conducted an inspection and found six critical violations of food safety rules. And two days after that, a 22-month-old boy fell off a pony at the market and was taken to a hospital to be treated for injuries.