Posted on
Fri, Feb 4, 2011 : 9:31 p.m.
Women open human trafficking symposium at University of Michigan by detailing personal stories
By David Jesse
Nicole was 10 when a woman came to her parents' house in the African country of Ghana, offering what seemed like paradise — a better future and an American education.
Nicole was thrilled. It seemed her dreams had come true.
But instead, long days braiding hair in a New Jersey shop turned into long weeks and months. Five years passed, and Nicole was forbidden from even greeting her neighbors as they passed on the street.
"It was the shop, then the house, then the shop, then the house," Nicole told a crowd of more than 150 University of Michigan students, professors and community members Friday night as "Successes and Failures in International Human Trafficking Law," a Michigan Journal of International Law symposium kicked off. The symposium continues Saturday.
Nicole and Dede — not their real names — spoke at today's event. They're both clients of the Human Trafficking Law Project, run by U-M professor Bridgette Carr.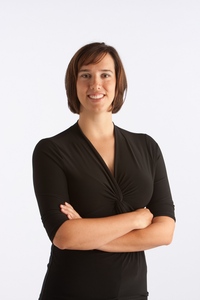 The project is the nation's first clinical law program dedicated to fighting human trafficking. U-M students and Car represent victims like Nicole and Dede.
Carr said she talks to students who assume that means they'll be working in foreign countries.
Not so, she says.
"We have cases that are from 20 miles from here," she said.
The clinic has clients who have been forced into the sex trade, and others who have worked in hair braiding shops and have been kept as domestic servants.
In addition, students are working to build an online database of human trafficking cases in the U.S. More than 150 cases have already been logged.
The searchable listings contain the stories of children tricked into leaving their homes in West Africa, then forced to work without pay in American hair-braiding shops; girls and young women forced into prostitution on American streets; and workers who toiled against their will on American farms.
"The University of Michigan's human trafficking database is a critical advance in the fight against modern slavery," Ambassador Luis CdeBaca, who leads the State Department's efforts against human trafficking and will be the keynote during the symposium, said in a press release. "Whether a practitioner or a policy maker, an advocate or academic — the work of all modern abolitionists will benefit from this compendium."
Each database entry is carefully screened and researched by law students, recent law graduates, and other volunteers who flesh out the initial results of LexisNexis searches.
The researchers then make entries into searchable fields such as name, state, and category of offense. To ensure reliable data, each entry is reviewed by a program manager before it becomes visible to the public.
"The database was a huge undertaking for the clinic, and we're so grateful for the support of the Law School and the hard work of the students and graduates who brought the project to fruition," Carr said. "Its launch is a major step toward the clinic's goal of not just representing individual victims, but also being a resource for other educators and practitioners involved in the fight against human trafficking."
Dede was 13 when the same woman who recruited Nicole showed up at her family's home in Togo, making promises about an American education.
"I was only 12, so I was like, 'OK,'" Dede said. "In my parents' minds, I was going for an education."
Dede went through ruses — including pretending to be married — to get a visa to come to the U.S.
Her dreams died when she landed at the airport.
"When she picked me up at the airport, she said, 'You know you're not here for school, you're coming here to braid (hair).'"
And so the girls did, working six or seven days a week from 7:30 a.m. until well past midnight some nights. They made several hundred dollars a week in tips, which they had to immediately turn over to the trafficker.
"If you bought a bottle of water, she's going to ask, 'Where did you get that? That's my money.'"
That's why traffickers do what they do, Carr said. It's highly profitable, she said, noting more than 20 girls worked in this ring, each bringing in several hundred dollars a week. And there's low risk since penalties for human trafficking are laxer than for smuggling drugs.
And the victims are trapped, Nicole and Dede said.
There was no where for them to go for help. They knew no one, and although both thought their customers knew something was fishy, no one spoke up.
"It was right there in front of them," Nicole said. "They would ask me how old I was, and I always said I was 18. Customers who kept coming back heard that I was 18 year after year. I forgot that each year, you're supposed to get older. They could have done something. None of them stepped up."
Finally, someone did go to the police and tell them about the traffickers.
That's always a key tipping point, Carr said. Police can decide to investigate and prosecute traffickers or they can decide it's an immigration issue, and the girls need to be rounded up and deported. That's the difference between being a victim or being the bad guy, she said.
Nicole will never forget Sept. 6, 2007. Around 5:30 a.m., as she was sleeping, there was a series of loud bangs that woke up everyone in the house. One of the girls opened the door to find police with guns drawn, barging in.
That didn't end the fear for Nicole, Dede and the other girls. They didn't know whether they could trust the police.
'We knew (our) papers were fake. We were afraid they would send us home," Dede said, adding they were afraid that the traffickers would use their connections in their home countries to hurt the girls.
"I was thinking, 'Is this happening?'" Nicole said. "I've been dreaming about this half my life. It felt like a dream. There was joy. I finally got to relax."
The girls who were over 18 got to stay in New Jersey. Those who were under 18 were placed in foster care, with several ending up in Michigan.
Nicole now wants to be a nurse. Dede wants to be a lawyer.
They both say their cases should be learning opportunities for Americans.
"A lot of people don't think this (slavery) is still going on," Dede said. "It is. Pay attention. If you see a child by their looks, but they are telling you they are 18, ask questions. They might be scared to come to you and tell you. We was.
"We would go home every day praying someone would do something."
David Jesse covers higher education for AnnArbor.com. He can be reached at davidjesse@annarbor.com or at 734-623-2534.