Posted on
Mon, Jul 18, 2011 : 5:46 p.m.
Concern spreads as Ann Arbor police investigate 3 assaults in 4 days near U-M
By Heidi Fenton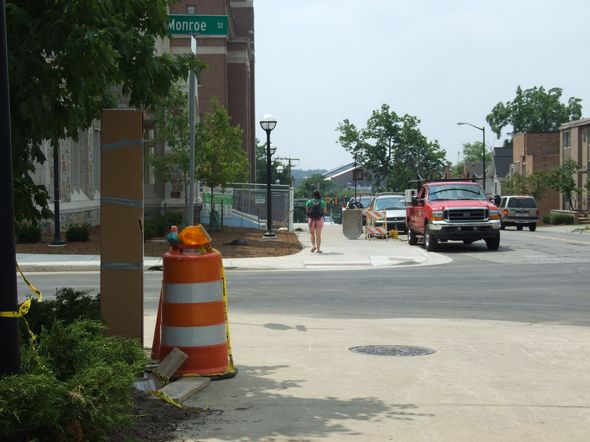 Benjamin Freed | AnnArbor.com
Many who live near the University of Michigan's Central Campus in Ann Arbor say they've typically considered the area safe for walking at night, despite a few safety incidents now and then.
But after three attacks on females in the last four days, concern is on the minds of many students —especially after a woman reported she was raped early Monday on one of Ann Arbor's main campus streets.
"I probably won't walk as late at night now. It doesn't seem smart to tempt fate," said Tanya Malusev, a U-M junior spending her first summer in Ann Arbor.
"I haven't heard anything to this extent, and this frequently—it's a bit disconcerting."
According to city police, a man approached an 18-year-old woman walking home from a party on South State Street around 12:40 a.m. Monday. He grabbed her before pulling her into an alley in the 700 block, near Weill Hall on U-M's Central Campus. The woman said she was raped before the man fled northbound on foot wearing a green T-shirt and khaki cargo pants.
Ann Arbor Police Lt. Renee Bush said police dispatchers received a call soon after the alleged attack, and officers arrived within 90 seconds. The woman was immediately transported to the University of Michigan Hospital.
Several area restaurants, including Quickie Burger, Pizza Bob's and Mr. Spots, closed early Sunday and employees who left around midnight told AnnArbor.com today they had seen nothing abnormal.
Yet as students walked through the area Monday, many said they were caught by surprise at the "severity" of the State Street attack.
Though all three incidents occurred off campus, University Police distributed a crime alert to the campus community.
"The fact that it happened on State—that's not a side street, that's a main road," Lindsey Fox said, explaining how she frequently walks home in the area at night.
Fox said she carries a knife with her "just to be safe," but said heavy foot traffic into the early morning hours has lessened her worries of danger.
"I just book it, I walk really fast and just avoid eye contact with people," Fox said.
During the summer, people spend time outside and Fox said some crime is to be expected around a college campus.
"It seems like events like that are becoming more common," she said. "That's a big deal."
Andrew Ferrara, who lives off State Street and works for the university, said many students are used to the safety of walking around Ann Arbor compared to other cities with higher crime rates. Though a handful of incidents may not catch the attention of people living in other cities, students here are caught off guard, he said.
The attack comes days after two other assaults near downtown, one in the 900 block of Greenwood Avenue, and another in the 400 block of North Division. Police are seeking other suspects in those incidents.
After the North Division attack, a woman told police she was walking near Community High School when a man grabbed her and tried to drag her to a secluded area before she broke free and fled.
Two hours later, at about 2 a.m. Saturday, a woman reported a man had grabbed her from behind on Greenwood Street, lifted up her dress and fondled her. She eventually broke free and fled.
In those two cases, the suspect was described as a man in his late teens or early 20s, about 5 feet, 6 inches tall, with an olive complexion and a short black hair style. He had no facial hair and was wearing a zipped-up black hooded sweatshirt and khaki cargo pants, authorities said.
The man police are seeking in the sexual assault reported Monday on State Street is white, about 6 feet, 5 inches tall, with brown hair and brown eyes, police said.
Additionally, the University of Michigan Department of Public Safety reported a man was attacked Sunday by five men while walking on East University Street near Hill Street.
Five men jumped out of a silver sedan and approached the student, who was walking with another person. One of the men punched the student, who was knocked unconscious when his head hit the ground.
The student was hospitalized and police are working to get a description of the attacker.
U-M Spokeswoman Diane Brown said campus police will increase foot patrols along the edges of campus close to where the weekend attacks occurred. University police received some calls from worried students Monday and Brown said officers would be out in force at night to maintain safety.
Though the university is required by law to send alerts to students for events that pose a threat directly on campus, she said, a decision was made to take it a step further this weekend and report the off-campus attacks.
"We take that a little bit further, realizing how integrated the edges of our campus are to our city," Brown said.
Heidi Fenton covers police and courts for AnnArbor.com. Reach her at heidifenton@annarbor.com or 734-623-4673. You also can follow her on Twitter or subscribe to AnnArbor.com's e-mail newsletters.